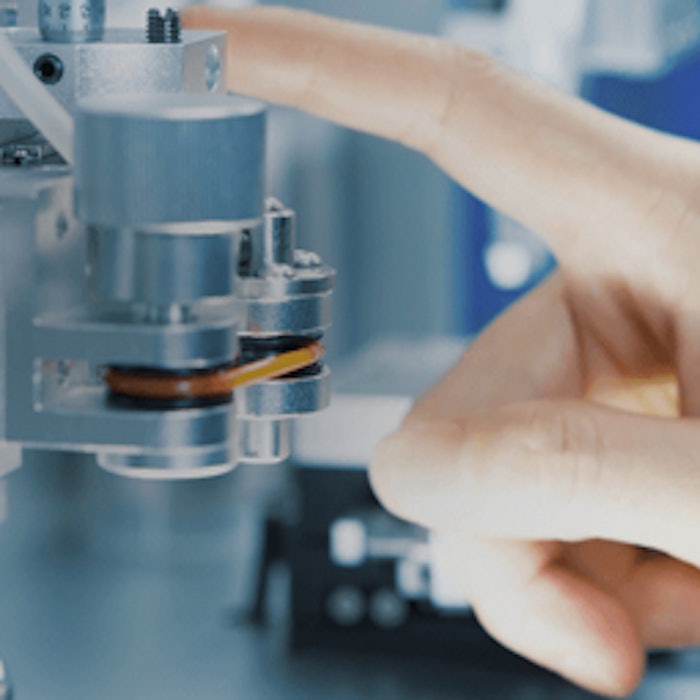 When INEOS Barex® AG announced in 2014 that it intended to close the Barex® plant in Lima, OH—the sole facility producing it—the worldwide pharmaceutical industry faced the loss of a staple barrier film. The plant closed in the first quarter of 2015.
Several plastics and packaging companies are working to find alternatives and were exhibiting their progress at Pharma EXPO 2015. For instance, Bemis is testing alternatives to Barex for the sealant layer in transdermal patch constructions.
Bemis has introduced PerfecPharmTM P616 (CXB™ Sealant), a blown modified ethylene co-polymer film, and PerfecPharm™ P619 (PET Sealant), an amorphous polyethylene terephthalate cast sealant. In addition to meeting common barrier property requirements for transdermal packaging, these Bemis specifications exhibit low permeation and absorption characteristics.
Flex-pack supplier Rollprint exhibited Exponent2, a high-barrier, peelable film that can function as an alternative to Barex. These extrusion-coated sealants provide excellent water vapor and oxygen barrier. Available in both peelable and weld seal versions, Exponent provides high-barrier clear film options where previous package choices were limited to aluminum foil laminations or glass. Exponent materials are for pharmaceuticals, including transdermal patch and single-dose delivery systems.
Why the emphasis on replacing Barex? Global transdermal patch delivery of drugs is a $25 billion market (2014) and is on its way to being a $40 billion market (2018), according to Bemis, with some 90 drugs in the pipeline that will utilize patches. So it's well worth finding effective and readily available alternatives to Barex.
Testing methodology
In their presentation entitled, "Materials Science: Case Study for Rational Design of Transdermal Patch Packaging," Rishabh Jain and Yuan Liu, Research Scientists, took the Innovation Stage during Pharma EXPO to present the results of their testing of these two alternatives to Barex. The testing examined chemical resistance, diffusion barrier performance, and ability to resist delamination. The two scientists also explained the methodology used to understand permeability of the drugs into the sealant layer.
According to the speakers, packaging of transdermal patches requires the package sealant to be impermeable to the transdermal Active Pharmaceutical Ingredient (API), that it prevent loss of the API, and that it preserve the structural integrity of the packaging structure (no delamination).
Since permeability is a function of solubility and diffusivity, the Bemis scientists reasoned that they need ways to test each. Solubility can be modeled using solubility parameters, and diffusivity can be visualized using Raman Imaging. The results can then be confirmed with drug uptake measurements using analytical methods.
Hansen Solubility Parameter modeling techniques can be applied to gain an understanding of how drugs interact with a sealant layer. Software is used to model the solubility of two molecules, for example polymer-drug or polymer-polymer.
Diffusion can be visualized using confocal Raman micro spectroscopic imaging to accurately characterize the extent of penetration of the drug into the film.
Nicotine test
The Bemis scientists performed an actual test using nicotine, to test penetration into CXB and PET after two days of direct contact. The results, according to a heat map image of nicotine penetration, were:
– CXB: nicotine remains on the surface
– PET: nicotine penetrates into the sealant
Next, 50 mg of pure nicotine was placed on blotter paper, and two sets of packages were created:
• Blotter paper only
• Blotter paper covered with perforated foil
Packages were sealed and stored at 38°C, at 75% relative humidity, for one to 91 days. Pouches were tested at the following times: 1, 3, 7, 10, 16, 31, 60, and 91 days.
The Bemis tests on the two materials reached the following conclusions:
CXB exhibited significant chemical resistance to nicotine, while Bemis' PET sealant shows fair performance with nicotine, and may be suitable for other pharmaceutical products. The testing correlated with theoretical expectations found with the Solubility Modeling.
Traditional packaging materials, such as Barex, were focused on reducing diffusivity; however, low diffusivity can result in poor heat-seal characteristics.
CXB is designed to lower the solubility, with no drawbacks in heat-seal characteristics
Bemis' CXB sealant holds up well when tested with nicotine using spectroscopy and solubility modeling to determine its performance.
Bemis CXB and PET Sealant Films can be used in a variety of laminations, such as:
– 23-micron PET / white poly / 9-micron foil / adhesive / 51-micron CXB or PET sealant
– 12-micron PET / white poly / 9-micron foil / adhesive / 51-micron CXB or PET sealant
– 40-gm paper / white poly / 9-micron foil / adhesive / 51-micron CXB or PET sealant
Bemis scientists have also conducted case studies for transdermal patch performance for both films using Lidocaine, Estradiol, and Fentanyl as the chemical ingredients. The scientists also emphasized some facts about the films that might soothe the frayed nerves of pharmaceutical packagers: namely, that both have secure supply chains, and that all specifications are supported by Bemis' Drug Master File, established in 1972.
Companies in this article