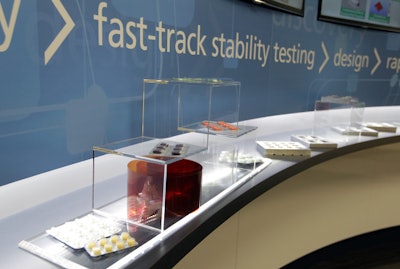 At Klöckner's Pharma EXPO Innovation Stage presentation in Las Vegas, a friendly paperboard cutout named "James" represented a typical pharmaceutical packaging engineer who received help developing new pharmaceutical packaging during a visit to Klöckner's Charlottesville, VA-based, kp i.center. The new state-of-the-art facility opened earlier this year, and is home to kp Pharmaceutical Film Division's newly expanded BlisterPro® XCEL suite of consulting, design, stability and prototyping services.
According to Daniel Stagnaro, Global Director, Market Development in the Pharmaceutical Films Division, the kp i.center provides a collaborative space created to help global pharmaceutical customers bring products to market more quickly and economically. It provides both the facilities and the expertise to help packagers model drug properties, select materials, model designs, prototype those designs, and provide tech services after production. The speaker went into some depth on the various facilities and services:
Fast-Track Drug Stability Modeling: ASAPprime® shelf life modeling software and ASAP laboratory-based studies provide speedy simulation of drug stability, to reduce guesswork and risk of failure.
According to FreeThink Technologies, this cutting-edge software is the only commercially available software that enables pharmaceutical scientists to quickly and accurately determine drug substance and drug product shelf life based on the Accelerated Stability Assessment Program (ASAP). This statistical software allows prediction of small-molecule drug product use periods, shelf lives and drug substance retest periods in as little as two weeks.
Blister Design: BlisterPro® software uses finite element analysis (FEA) to optimize barrier properties and form, as well as tool design. This accelerated process also allows multiple iterations of design and material adjustments to take place quickly and easily. What once could have taken months of design, testing and feedback, can now be accomplished in weeks.

According to Klöckner, BlisterPro® XCEL services help the team explore the effects of tool geometry, film types and process conditions, as well as predict the protective barrier properties of the final package, without running line trials.
Material Selection: Consulting/support in initial material selection for new drugs, off-patent drugs by generics producers, cold-form to thermoform switch-outs, etc. Value engineering tools and analysis are offered to maximize efficiency of the customer's packaging operations.
Prototyping: In-house CNC machine capability, and an Uhlmann blister line, allow for rapid creation of sample tooling and blister packages for customers.
Technical and Educational Services: Customers have access to a portfolio of educational and collaborative programs for engineers, scientists and packaging designers, to take advantage of either onsite or at the kp.i.center.
"We wanted a destination for clients to 'take residency' and work side-by-side with us on their specific packaging needs," says Stagnaro. "The new kp i.center facilitates rapid packaging design, and gives customers a truly personalized experience."
The center hosts collaboration rooms, customer offices, on-site tooling and blistering machinery, and onsite expertise. The cross-functional space houses sales, marketing, market development, and technology and innovation personnel.
Collaborating in the real world
How might this collaborative approach work in the real world? In his Innovation Stage presentation, "Creating Tomorrow's Packaging Today: Technology and Collaboration-Based Approaches to Optimize Pharmaceutical Package Design," Stagnaro offered a glimpse into the capabilities of the concept, presenting three scenarios involving James and the services he could obtain at the center. One of these scenarios involved whether to choose a single- or double-cavity capsule.
Let's say James is developing the packaging for a two-capsule per dose medication. He thinks a two-capsule/blister design will work well for compliance and design, but is worried about package integrity and shelf life. He needs help answering the question: Which is better for this application, single- or double-cavity?
Understanding that James is also concerned about product launch time and cost of testing multiple designs, the BlisterPro XCEL team proposes a two-step approach:
• BlisterPro finite element analysis to generate:
Film thickness prediction
Blister transmission rates: MVTR & OTR
Package geometry recommendations
• ASAPprime® analysis: Simulation and modeling of product degradation under a set of temperature and relative humidity conditions
Provided through an alliance with FreeThink Technologies (FTT)
Uses BlisterPro®-derived transmission rate as an input to shelf life modeling
Parameters are chosen (capsule sizes, typical fill weights, volume, diameter, wall thickness, etc.) for 350 mg, to analyze the difference between Size One capsule single and double-cavity designs.
Moisture uptake results indicate that the double-cavity design has less relative surface area and thicker film, thus extending the amount of time it takes to adsorb the same amount of moisture. Bottom line: In less than a day, and without running a single film trial, James is able to confidently decide that the double-cavity design is the way to go.
The collaborative environment offered by the kp i.center aims to lead to the discovery of innovative packages and prototypes optimized for a particular customer's products—meeting the needs of global pharmaceutical packaging professionals, including those in operations, marketing, and procurement, for both branded and generic products. Klöckner managers envision that visitors to the center will include project managers, business unit managers, and engineers—in other words, the entire packaging team.
The cooperative approach is meant to reduce the time it takes to design and choose packaging, thereby shortening product-to-market release, and bypassing the "trial-and-error" method that wastes time. That's a win-win that even a paperboard cutout can understand.
See related story, "LIVE FROM Pharma EXPO" A collaborative approach."
Companies in this article
Videos from Klöckner Pentaplast Pharma, Health & Protection and Durables