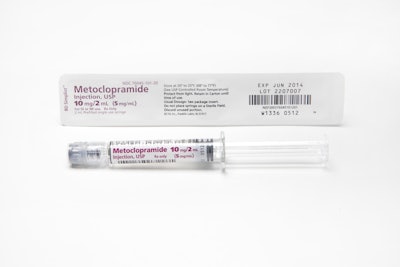 Fast-moving congressional legislation on drug package bar coding gives pharmaceutical manufacturers a short-term reprieve from what they view as an impending California e-pedigree death sentence. But the timeline for manufacturers spending millions on packaging line upgrades will likely be pushed back only three or four years. At that point they will have to print on the packages of the smallest salable units 2D bar codes containing a product's National Drug Code, a unique serial number, lot number, and expiration date.
Very few manufacturers are doing that today despite the fact the California deadline to put those 2D labels on half of all products coming into that state is January 1, 2015. The other half would have to be 2D-bar-coded one year later.
Given their petty pace on serialization, the entire brand-name and generic industry has pressed hard to pre-empt the California deadline. Both House and Senate bills do that by substituting a national standard.
Justin Schroeder, senior director, Marketing and Development Services, Packaging Coordinators, Inc., says, "I don't think you should be surprised that U.S. companies have not made more progress on serialization. Most are waiting to see how the regulations play out. It is a substantial investment in time, resources, and capital expense with very few standards in place due to the evolving state, national, and international requirements. I don't think people appreciate the scale of the investment required."
PCI is one of the world's major pharmaceutical and biotech packaging contractors. In May, Frazier Healthcare and PCI acquired AndersonBrecon from its parent company Amerisource Bergen Corp. AndersonBrecon now merged with and operates as PCI.
PCI is currently commercially serializing one multi-SKU product apiece for each of two top 10 global pharmaceutical manufacturers. Given the fact that PCI has 100-plus clients, the scale of adoption from manufacturers has been limited, and again reflects how far from complying with California U.S. companies are. Schroeder notes that many pilot programs and full-scale rollouts are being implemented in 2013 as a select group of companies aggressively look to implement serialization programs now. Many other clients have begun active discussions, but look to implement in 2014 or beyond.
Reflecting the slow pace of serialization was testimony provided to the House Energy & Commerce Committee at the end of April by Michael Rose, vice president, Supply Chain Visibility, Johnson and Johnson Health Care Systems, Inc. He said his company had just serialized its first product for the U.S. market, Prezista (darunavir). A J&J spokesman did not respond to an e-mail requesting details on the cost of serialization of Prezista, or the timeframe for serializing other company products.
If packaging serialization legislation does pass Congress, manufacturers will have to pick up the pace, though they won't have to do so frantically, which they would if the California edict is left standing. The House bill, passed on the floor on June 3, is called the Safeguarding America's Pharmaceuticals Act of 2013 (H.R.1919). The Senate bill is the Drug Supply Chain Security Act (S. 957). Their objective is to prevent counterfeit drugs from insinuating themselves into the legitimate distribution network. The bills are fairly similar. Past Congresses have never gotten bills out of committee. So it looks almost certain that legislation will reach the White House for President Obama's signature, and probably sooner rather than later. A Coalition called the Pharmaceutical Distribution Security Alliance (PSDA), which includes the Pharmaceutical Research and Manufacturers of America, the generic industry's trade group and others, has pressed Congress to adopt a national program that would kick in later than California's.
However the regulations play out (if the President signs a compromise bill) with regard to prescription drug product identifiers, those regulations are likely to do very little to safeguard the nation's drug supply, despite the monikers of the bills. That is because neither bill requires either wholesalers or pharmacies to electronically "read" and "verify" the unique serial numbers identifying an individual package. Instead, wholesalers and pharmacies will have to verify "transaction history" and "transaction statements" prepared by the manufacturer and passed down the distribution line. These do not have to be in electronic form. They can be paper. Moreover, the transaction statements do not have to include the unique product identifiers for each of the packages in the "lot." The Senate bill requires the lot number to be included in the transaction statement; the House bill does not for five years after the bill passes.
Both bills, however, contemplate the U.S. Food and Drug Administration, sometime in the 2020s, starting a rulemaking, which would consider (the House) or mandate (the Senate) imposition nationally of a California e-pedigree unit-based package tracking system. However, the Senate bill contains all sorts of "if, ands, and buts," which would allow the FDA to "provide appropriate flexibility" by not requiring specific business systems for maintenance and transmission of data, providing alternative methods of compliance, "taking into consideration " the public health benefits of any additional regulations in comparison to the cost of compliance with such requirements, and a whole host of other factors that could turn any mandate into a piece of swiss cheese.
"The bill stipulates the FDA will hold regular meetings and conduct pilot programs with stakeholders to better inform the agency as to the feasibility of unit-level traceability and the processes needed to achieve that goal," Rep. Jim Matheson (D-Utah), prime sponsor of the House bill said on the House floor on June 3. "This is critical to ensure that the unit-level traceability regulation is achievable, does not increase prescription drug costs for consumers, and ultimately protects patients from counterfeit and adulterated prescription drug products."
Dirk Rodgers, an independent consultant and founder of RxTrace.com, and Healthcare Packaging contributing editor, says, "The bills remove the need to document which specific unit is in each shipment." So as anti-counterfeiting measures, both bills are ineffective. At least the Senate bill, by immediately mandating inclusion of the lot number in both the transaction statement and bar code, could more quickly improve product recalls."
But in that sense, the Senate bill only allows the manufacturer, facing a Heparin-type situation, to recall the haystack, not the needle. California's e-Pedigree program allows pinpointing of a defective needle.
Even though both bills pre-empt California, drug manufacturers have been restrained in their support. When the House passed its bill, the Pharmaceutical Distribution Security Alliance said, "We commend the House for passing this bill and look forward to working with the House and Senate to ensure that a strong and effective bill is sent soon to the President for his signature." That implies the drug industry will be looking for changes in the language of the bills in any final, compromised version.
Companies in this article