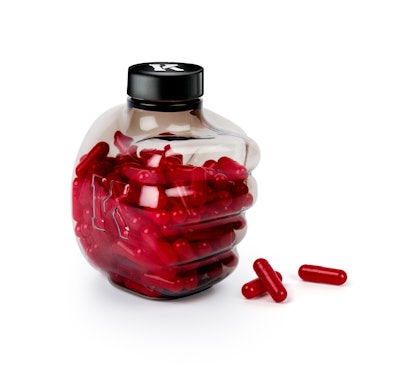 Mixed martial artists Diego Sanchez and John Dodson are touting Instant Knock Out supplements, a formula consisting of 10 fat-burning ingredients such as green tea extract, cayenne pepper seeds, and glucomannan.
Instant Knock Out capsules are sold in a unique clear plastic fist-shaped package topped with a black closure containing the K-shaped product logo. The packaging earned TricorBraun recognition in the 2016 WorldStar Awards competition held by the World Packaging Organization in the Medical & Pharmaceutical category.
WPO notes, "The customer wanted a design shaped as a fist in transparent color that would captivate the imagination of the user and display the product of red capsules, bringing to life the new market brand 'Instant Knockout.' The project required multiple vendors on multiple continents who rose to the challenge and solved the technical difficulty of the asymmetrical design for the extrusion/blow-molded PETG fist. The PP closure features an offset logo printing."
"Recognition by WPO, which represents packaging professionals from around the world, is a special honor," says Keith Strope, TricorBraun's Chief Executive Officer in announcing the awards.
Award judging sessions took place on October 8 and 10 during the WPO Board Meeting program in Mumbai, India, with 17 late entries being judged online by the same panel of judges during November. Representatives from 19 packaging associations that are members of WPO judged 293 packaging projects, from 35 countries that had been entered in the WorldStar Awards 2016.
Instant Knockout is a dramatic package––a clear plastic bottle molded in the shape of a clenched fist, designed to show off the bright red capsules within while projecting the "knockout fat" theme of this weight loss supplement. It was intended to be eye-catching and designed specifically to appeal to the brand owner's target demographic: younger men who are already working out but who want help losing that last few pounds of fat.
The 2016 WorldStar Awards will be presented at a gala dinner in Budapest, Hungary on May 26, 2016. Read more here on Instant Knockout package.
Companies in this article