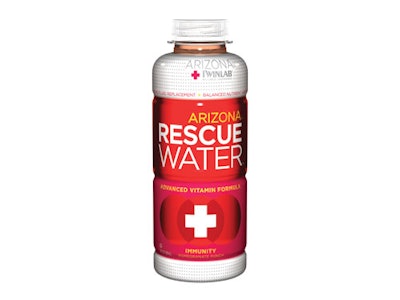 This spring, Woodbury, NY-based AriZona Beverage Co. is introducing nationwide a line of four vitamin-enhanced waters in PET bottles injection blow-molded by
Constar
. AriZona says the 20.5-oz bottles use Constar's DiamondClear oxygen-scavenging technology that protects the product within from oxygen, which can degrade the quality of the beverage and impair the nutrients inside.
Multi-Color Corp
. gravure-prints in seven colors the full-body shrink labels on 50-micron polyvinyl chloride film. Injection-molded polypropylene closures are supplied by
Silgan White Cap
. Shelf life is 18 months unopened, seven to 10 days refrigerated after the beverage is opened.
"The bottle design is very unique in that many PET bottles have a lot of ribs and panels. The AriZona RESCUE Water PET has none. In fact, the panelless X4 technology for hot-fill bottles is patented by Constar, so it is brand new," explains Jim Gunther, the company's head of graphics and design.
The line of four enhanced waters contains a proprietary blend of
Twinlab
-brand vitamins and antioxidants that aim to help increase active fluid replacement and also help balance nutrient absorption in the body. Additionally, each flavor has its very own function. Each of the four brightly colored bottle labels corresponds with a unique purpose, but the entire line features AriZona's green tea extract for an antioxidant-packed base.
Twinlab's laboratories created advanced vitamin formulas for each variety in the AriZona RESCUE Water line:
• L-Theanine, green tea extract and lemon balm extract in the Berry Blend work in harmony to help the body deal with daily stressors and relax.
• The Lemon-Lime formula is designed to provide a boost in energy. With a blend of guarana extract, green tea extract and natural caffeine, this beverage intends to enhance endurance and fuel focus.
• Orange Citrus' blend is meant to help the body to detox by supporting liver function and replenishing the body with necessary nutrients like Alpha Lipoic Acid, green tea extract, milk thistle extract, and L-Glutathione.
By combating free radicals with a blend of Arabinogalactin, green tea extract, and elderberry extract, the Pomegranate Punch is designed to support immunity.
RESCUE Water contains no artificial colors or artificial flavors, and is sweetened with Reb A, a natural sweetener that comes from Stevia plants and contains zero calories, so each beverage boasts only 25 calories per 8-oz serving. Beverage prices range from $1.39 to $1.89 per bottle. They are also sold in 24 packs.
-Jim Butschli, Editor