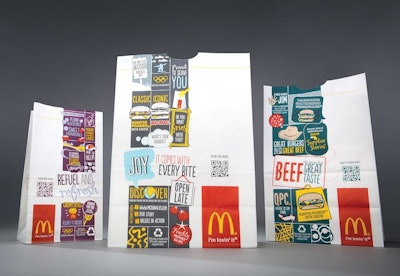 When McDonald's unveiled new packaging designs on carryout bags and fountain beverage cups with QR codes earlier this year, the Oak Brook, IL-based foodservice retailer's press release said, "Bags and cups to feature QR codes providing access to finding nutrition information."
The press release noted, "In addition to gathering consumer input on these designs, McDonald's consulted its Global Advisory Council, a group of independent advisors in the areas of nutrition, public health, and fitness. These outside experts emphasized the importance of providing access to nutrition information, and support using the new packaging to directly connect customers to information about McDonald's menu."
As McDonald's aims to use packaging to deliver nutritional information to consumers, some attendees to the company's 2013 Annual Shareholders Meeting were aiming to get McDonald's to take action to address its own food offerings. Yahoo!Finance posted a transcript of May 23 meeting.
During the conference, Sri Ram from Corporate Accountability Intl. (CAI), a grassroots corporate watchdog organization, made the following remarks: "Through our value of meal campaign more than 3,000 health professionals have urged this corporation to stop marketing to kids and to address its role in driving diet-related disease. McDonald's has long placed stores in hospitals to create a false sense of health…using hospitals as part of McDonald's marketing strategy, but hospitals aren't buying it anymore. Most recently Truman Medical Center kicked McDonald's out specifically citing health reasons."
Don Thompson, McDonald's president and CEO responded, "We have about 25 restaurants in hospitals, out of 14,000 in the United States. There's many hospitals that have asked us to come back in or actually never to leave hospitals. In addition, there's about 100 Ronald Rooms as we call them in many of the hospitals around the U.S. and around the world. And in those hospitals we are also trying to take care of holistic family needs. … We've added a lot more food, a lot more vegetables. We think customers should have their choice, but we will continue to work with hospitals."
With more than 34,000 locations serving 69 million customers in 119 countries each day, McDonald's makes for an inviting target. CAI's press release noted, "McDonald's new leadership can continue hedging its bets, allowing short-term profits to obscure the looming risks to the corporation's long-term profitability, like its predecessors," said Kelle Louaillier, executive director of CAI. "Or CEO Thompson and his team can publicly take the sobering look at how inextricably linked McDonald's business practices are with today's health crisis. There is far too much at stake for this industry leader to balk at economic concerns and at the wisdom of the medical establishment, shareholders, and parents everywhere."
CAI's release added, "And while the corporation has been compelled to take some initial steps since the introduction of the first health resolution in 2011, such as changing its Happy Meals, McDonald's has also lavished millions of dollars on PR aimed to nutria-wash away public health concerns."
A May 8, 2013 New York Times online article said, "After years of outperforming rivals, McDonald's has been struggling to increase sales as it faces intensifying competition, changing eating habits, and weak growth in the broader restaurant industry. Late last year, the company reported a decline in its monthly sales figure for the first time in early a decade."
Bottom-line financial issues will influence McDonald's business decisions, including what foods it adds to or subtracts from its menu. Whatever changes, if any, the company makes, it would be wise for it to consider using packaging graphics and copy to help deliver a more health-conscious message to consumers. It will be interesting to watch in the coming months to see if McDonald's employs packaging in its approach to deal with a changing market, and what appears to be a growing population that doesn't equate the restaurant's food fare with healthy choices.