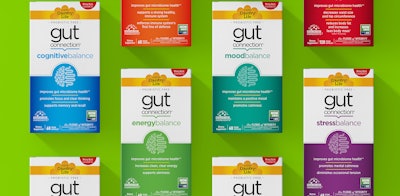 The Country Life® team partnered with The Biondo Group, Stamford, CT, to create a unique branding system for Gut Connection™, which communicates the sub-brand's compelling research-based story as well as its unique benefits. The line consists of eight varieties, each one offering a separate health solution (i.e. weight management, improved mood and mental clarity).
"Our packaging truly looks phenomenal and is well-received by Retailers who are complimentary of the brand. We were also thrilled to receive the 2019 NEXTY Editor's Choice Award at Expo West and believe our packaging was a part of this success story, " says Donna Iannucci, Chief Marketing Officer of Country Life.
The carton is made from 18-pt SBS board that is offset printed with a UV varnish on the carton. An aqueous varnish is used on labels. Primary packaging consists of capsules in an amber glass bottle with a pressure sensitive flexo-printed label.
"We used clean graphics and bold colors to design a powerful brand block on-shelf, while also clearly differentiating products. The design also works in the online shopping environment; we created an infographic icon which quickly communicates the 'gut-to-brain connection' theme, even in thumbnail size. To capitalize on the Country Life brand equity, we used the recognized yellow logo and ribbon across the SKU's, further unifying the system," Charles Biondo says.