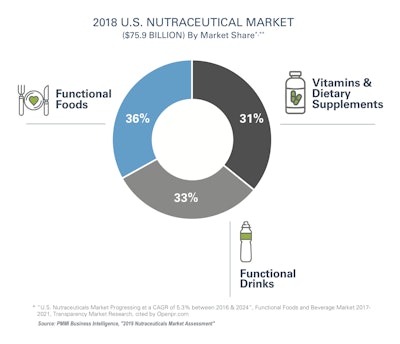 According to the 44-page study, "2019 Nutraceutical Market Assessment," Baby Boomers and Millennials are driving nutraceutical market growth with their interests in sports & energy, natural pharmaceutical alternatives, weight loss, and general life extension.
Both demographic groups have a growing interest in nutraceuticals but wish to incorporate them more seamlessly into their diet through functional foods and drinks instead of by taking traditional pill supplements.
Many companies interviewed view CBD as the biggest innovation in the nutraceuticals market. CBD growth dictates a need for small batch packaging equipment, integrated dosing, and premium amber glass tincture bottles. The CBD market requires more small batch equipment as opposed to fewer large scale machines
CBD products are often made to individual customer needs and packaged in a variety of forms so companies are looking for more small, tabletop machines to accommodate a variety of packaging forms rather than large packaging machines.
Specific dosing requirements with CBD require an eye dropper with specific measurements integrated into the cap of a tincture bottle, or a precise measuring spoon for CBD powder.
Tinctures – used for over 40% of CBD products – are predominantly sold in amber glass bottles (these have less oxidation, which prevents CBD from breaking down).
Other types of packaging include pouches and spray bottles. The most important requirements for these packaging types are ease of opening and discreet use, but customers also want premium packaging with childproof caps. CBD companies have been adding secondary packaging by enclosing their tincture bottles in a box.
Consumers also worry about the safety of CBD products, and want secure containers that are still easy to use.
Source: PMMI Business Intelligence, "2019 Nutraceutical Market Assessment." Download your FREE 20-page Executive Summary here.
Looking for an answer to your nutraceutical packaging challenge? Make plans to visit Healthcare Packaging EXPO Las Vegas, Sept. 23-25 for the latest materials and machinery.