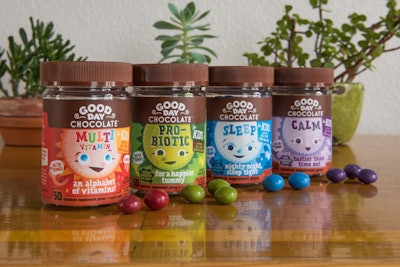 Pairing a PET jar with vivid, playful graphics that color-coordinate with its cap, Boulder, CO-based Good Day Chocolate demonstrates how packaging can make a bold statement—in this instance, in the vitamin/supplements category.
The company is doctor-founded and strongly advocates for responsible dosages. Its Good Day Chocolate for Kids products are pediatric doses of pharmaceutical-grade supplements made with Fair-Trade milk or dark chocolate and candy-coated with colors from fruits and vegetables.
Recommended for children ages three and older, the products are hitting vitamin and supplement shelves nationwide at Target and are available online at Target.com, GoodDayChocolate.com, and Amazon.com. Additional stores will be announced soon. The children's products complement the company's chocolate supplements for on-the-go adults, which include Sleep, Energy, and Calm varieties.
"After years of research, we intentionally chose chocolate instead of a gummy or a pill as our delivery system," explains Andy Goldman, M.D., Surgeon, and Co-Founder of Good Day Chocolate. "Chocolate is a real, whole food with antioxidant and anti-inflammatory qualities and is one of the most effective delivery formats for vitamins and supplements due to the natural combination of sugar and fat, which helps the body metabolize it more effectively and efficiently."
Chocolate "absolutely" provides competitive differentiation from other supplement and vitamin products, believes Simeon Margolis, the company's CEO and Co-Founder.
"There isn't anything like this on the market," he notes. "The supplements currently available for kids are either in gummies or chewable candies, which comprise mostly sugar, syrups, and gelatin. We came up with the chocolate delivery system because chocolate is a whole food with proven health benefits like xanthines and flavonoids—compounds that are antioxidant as well as anti-inflammatory. And, of course, the obvious—chocolate is delicious! Each piece is colored with fruits and vegetables."
Packaging details
All four chocolate supplement varieties come in 50-ct, child-proof, 300-cc BPA-free jars. Both the PET jars and "chocolate"-color lids are supplied by TricorBraun. The paper labels are printed digitally in four colors. Copy on the labels playfully identifies the four products:
• "Multivitamin—an alphabet of vitamins!" supports the needs of growing kids with a complete, daily dose of vitamins including A, B6, B12, C, D, E Folate and Biotin made with Fair-Trade milk chocolate.
• "Pro-Biotic—for a happier tummy" helps promote healthy digestion and a happy tummy with 1 billion CFUs (colony forming units) of the extensively researched probiotic strain, Bacillus coagulans and is made with dark chocolate.
• "Sleep—nighty-night, sleep tight" provides gentle and safe sleep relief for occasional restlessness with 1 mg of melatonin, a pediatrician-recommended sleep aid, made with milk chocolate. (The company says The Pediatric Research Department at The University of California, San Francisco is currently using Good Day Chocolate Sleep in a clinical study of headaches and migraines in children.)
• "Calm—tastier than time out" blends L-theanine, a naturally occurring amino acid found in soothing herbal tea, with relaxing chamomile flower made with milk chocolate.
Margolis credits local design agency Moxie Sozo with helping Good Day Chocolate develop the look and feel of the brand.
He says, "They designed the graphics for all of our products and we wrote a lot of the copy on the packaging. The goals of the designs were to grab consumer attention where they shop, whether that's on-shelf or online, to spur enough interest for them to pick it up or click on it to learn more, and ultimately to tell our consumer enough about the product itself, it's efficacy, and who Good Day Chocolate is to drive a purchase."
An illustration of a sun with a smiling face on jar labels adds further appeal, harmonizing with the company's charity partner, Smile Train, which does cleft palate repair on children in more than 85 countries. Co-Founder Andy Goldman is a facial plastic surgeon.
Good Day Chocolate products are third-party-tested three times during the manufacturing process to ensure accurate dosages. All supplements are manufactured in SQF-2 facilities and made with non-GMO ingredients.
Product filling is done by an outside vendor. Good Day Chocolate prefers not to identify the firm nor the equipment it uses. Margolis says product shelf life is two years. He explains, "There is currently not a need for moisture or oxygen barriers, though the PET jars are sealed for safety so that helps with moisture and oxygen control."
The products resemble peanut M&Ms, begging the question, "How do you prevent children from eating these supplements like candy and potentially taking too many?"
Margolis responds, "As parents ourselves—including our co-founder who is a doctor—we spent a lot of time thinking about this and ultimately using a child-proof cap on all four of the kids' products to ensure that parents hold the control to appropriately dose each product for their children."
As both parents and doctors, the co-founders have given considerable thought not only creating a unique supplement product for children, but also utilizing packaging to protect and market their product to both online and brick-and-mortar retailers in a refreshing way that packs powerful shelf impact and differentiation.
Companies in this article