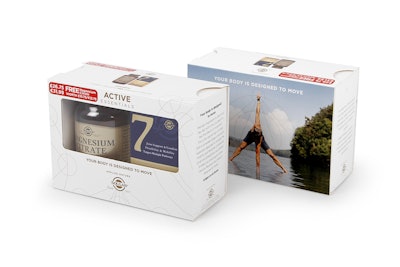 The battle for consumers' choice on U.K. retail shelves is lost or won within moments, proving the importance of successful packaging. For this reason, Leonia, NJ-based nutritional supplement producer Solgar sought promotional packaging that would successfully bundle two bottles in a single pack to draw consumer's attention on retail shelves. The new packaging also had to offer a premium product experience and provide excellent product visibility.
Solgar worked with packaging company and design agency Burgopak, which interpreted these requirements into a "left and right" pack, using their patented sliding mechanism to combine two different-sized products into a single integrated pack. The custom Burgopak design ensures a compact solution with little wasted space, yet creates a strong shelf presence and a reportedly unique unboxing experience.
Burgopak's licensed partner facility in the Czech Republic manufactures the carton used by Solgar, which measures 0.42 microns thick, with a weight of 250 g/m2. It is single-side printed lithographically in four colors plus an aqueous matte finish.
The design interacts with consumers through its patented opening mechanism. Pushing one side of the pack inwards, the bottle appears on the other side. Simultaneously, a panel is exposed on which the Solgar brand messages and further information are printed.
To clearly display Solgar's promotional offer, Burgopak designed an aperture in the pack with a PET window. This helps to build a strong visual frame around the high-quality, premium products as well as connecting consumers with the familiar and iconic Solgar bottle.
Solgar's mission to enhance the total health and well-being of consumers, is achieved by distributing exclusively to retailers trained by Solgar to guide consumers through the wide range of supplement choices.
Gordon Yule, Solgar's Sales Director, says, "We are very pleased with this Burgopak solution. It has overcome several challenges we had in raising consumer awareness of our promotions and has contributed to a pick-up in sales compared to previous promotional activity of a similar caliber."
Companies in this article