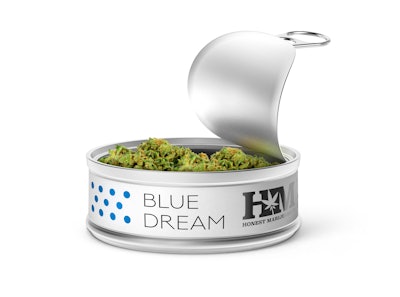 Honest Marijuana Company of Steamboat Springs, CO, has built its business around respect for the environment, producing organic, all-natural, eco-friendly cannabis products using earth-conscious cultivation methods. Among them, the company uses 100% organic soil, hand waters and hand trims the plants, uses probiotics and plant-based nutrients, and foregoes chemicals and plant growth regulators.
"All natural marijuana takes an approach where you nurture the soil and not the plant," says Founder and 'ganja-preneur' Anthony Franciosi, who launched his premium marijuana flower products in August 2016. "Relationships between the roots and bacteria in the soil allow the plant to seek out exactly which nutrients in the soil it needs. By allowing those soil relationships to thrive, the plant exhibits its most honest and distinct characteristics."
To retain the purity and freshness of the product as well as extend its commitment to the environment, Honest Marijuana chose recyclable, reusable tin-can packaging for its range of cannabis strains. The tin, from N2 Packaging Systems LLC, is nitrogen-dosed and hermetically sealed through a patented packaging system to preserve the contents of the tin.
"We looked extensively for a way to package all our cannabis products using a food-grade preservation method," says Franciosi. "For our flower, we found that this tin-can method met all the requirements we had regarding preserving the flower the way we intend the end user to receive it, in an eco-friendly package that is crush-proof and reusable.
"Our tin cans with pure nitrogen ensure only the highest level of integrity and quality, as they allow for the cannabis to stay in its purest form and not be deteriorated by light, oxygen, or residual humidity. The tin cans are also inert to temperature fluctuations, meaning they don't secrete any chemical compounds that can kill the fresh aroma of the cannabis terpenes.The cans preserve the cannabis flowers for years. Unlike the typical plastic packaging seen in the market, our tin cans are also recyclable and much better for Mother Earth."
The round tin holds 1/8 oz of cannabis flower product and is covered with a pull-top metal lid that meets regulations for child-resistance. The recyclable metal lid is then covered by a plastic snap-on lid, making the can resealable and reusable. Decoration is accomplished by three full-color-printed, pressure-sensitive paper labels: a wraparound label for the body, one for the top, and one for the bottom.
Label graphics were designed in-house and use a dot pattern and color scheme specific to each strain; there are from eight to 12 different varieties. Among them, Blue Dream in a blue color scheme, Golden Berry in gold, and Alien Yoda OG in purple.
Franciosi says that Honest Marijuana is one of only a few companies using this nitrogen-dosing tin-can packaging method. He adds, "With this revolutionary new packaging, we hope to inspire other cannabis companies to place a greater focus on sustainability and caring for Mother Earth."