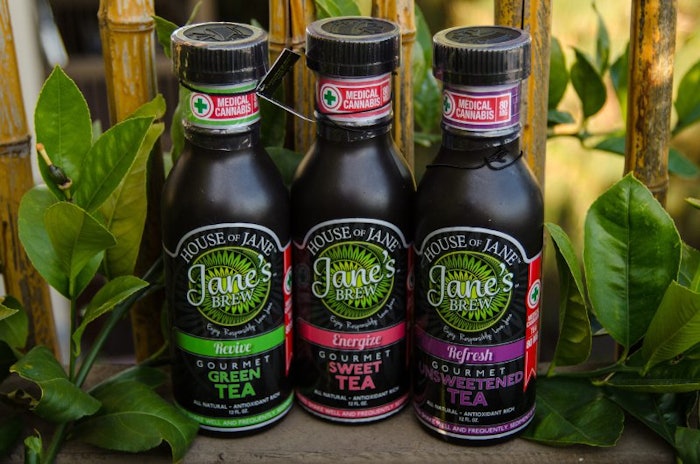 Opaque glass bottles with childproof, tamper-resistant, resealable caps and specific dosing instructions aim to make Jane's Brew gourmet beverages one of the safest choices of cannabis products.
House of Jane, a not-for-profit corporation and producer of cannabis-infused beverages, announced what it reported as the first fully compliant packaging for bottled beverages in the medical cannabis market.
The California-based cannabis coffee and tea company says it is, "Setting the standard for responsible packaging and dosing—an important benchmark in the growth of the California's medical cannabis market."
The sleek, opaque black glass bottle has a tamper-proof, child-resistant safety cap and AB266 compliant labeling. With this safety initiative, Jane's Brew plans to take an even larger share of the market where several Northern California municipalities are already conforming to state requirements.
Jane's Brew bottled beverages do not require refrigeration prior to consumption—another important safety consideration, which complies with new guidelines.
Using all natural ingredients including fair-trade loose leaf tea, cane sugar and a proprietary CO2 extracted cannabis formulation makes Jane's premium beverages the top choice for patients.
Currently, three classic flavors are offered: Energizing Sweet Black tea, Reviving Green Tea and Refreshing Unsweetened Tea. A long-awaited 50THC/50CBD Balance, Tea/Lemonade will be added this summer.
"Pharmaceutical-type packaging has emerged as an important safety issue in California as it relates to medical cannabis," says Ben-David Sheppard, CEO of House of Jane. "House of Jane wanted to meet it head on, creating the most effective resealable child-proof packaging for bottled beverages on the market. This is only one way that Jane's Brew distinguishes itself. We are a premium, upscale brand that offers a discreet cannabis experience for those who prefer an alternative to prescription painkillers, alcohol, smoking, or high-calorie edibles. Our products attract a more mature and discerning patient base who is often focused on maintaining a healthy, balanced lifestyle."
"Our child-proof cap works so well that it takes most of my own strength to open," says Jill Amen, aka "Jane" and President of House of Jane. "In an industry with restricted opportunities for advertising, branding remains key. Packaging and labeling need to be very eye-catching, thorough, and at the same time, not appeal or be accessible to minors. We have opted for the best solutions because we deeply care about how our products are dispensed, and we do all we can to educate patients, budtenders and caregivers. We are all about quality, consistency and integrity. All of which are key components of our company's culture. Companies like House of Jane will most certainly help drive the dialog forward as we approach 'adult use' regulation in California this year."
The company provided the following U.S. FDA disclosure on a press release announcing the bottled packaging: "These statements have not been evaluated by the FDA and are not intended to diagnose, treat or cure any disease."