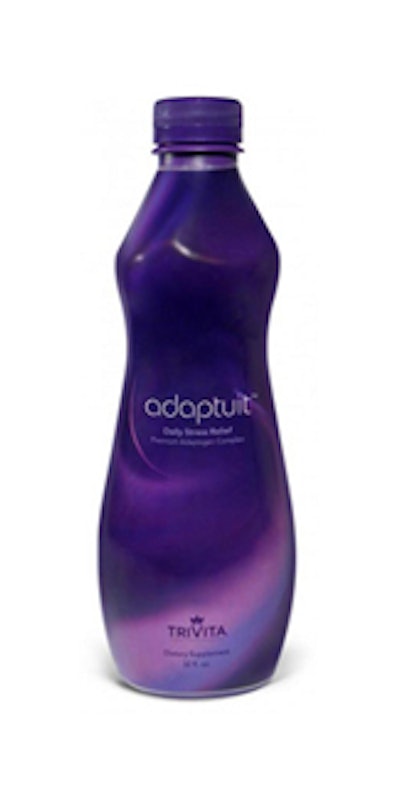 Adaptuit, from Scottsdale, AZ-based global heath and wellness company TriVita Intl., is a liquid, pharmaceutical-grade supplement designed to combat the damaging effects of everyday stresses. Sold online and via television, the product required "a vibrant, memorable package that would 'pop' on TV," says Samantha Juna, Industrial Designer for TricorBraun Package Design, which worked in tandem with TricorBraun Graphic Design to create custom packaging for Adaptuit.
TriVita's design brief for the new package specified a 32-oz, shrink-sleeve bottle with a unique and memorable shape that also conveyed "a premium aura." Because Adaptuit is geared toward women, but can also be used by men, the company was also looking for a structure with a strong feminine appeal, but one that would not alienate men.
"From the beginning of the project, we knew the customer wanted to shrink-sleeve the new bottle, so designing a bottle shape that was compatible with this decoration method was a primary objective," Juna adds. "Shrink sleeves allow the most flexibility in the underlying structure of a package, so we strived to take advantage of this benefit and explored more complex or curvy surfaces with the bottle shape."
The resulting purple, high-density polyethylene bottle, supplied by Priority Plastics, has a female silhouette with a soft, flowing shape "that gives the package an approachable feel, but still has an element of sophistication," says Juna. The curvy shape also allows consumers to get a good grip on the 32-oz package. The bottle shoulder transitions into a twist that flows up into the neck finish, which Juna says reflects the ever-changing adaptive nature of the product itself.

According to TricorBraun Design Engineer Gerald Christian there were some manufacturing hurdles related to the bottle: "The parting line was a challenge because the design of the shoulder of the bottle had some slight undercuts," he says. "Our design engineer worked closely with our mold engineer, and by changing the angle of the twist and the location slightly, we were able to solve the problem and get the parting line set."
Developed concurrently with the bottle, the shrink-sleeve label was designed by TricorBraun Graphic Design while the bottle shape was still being finalized, allowing TriVita to review and approve both at the same time to speed product introduction.
As Graphic Design Manager Molly Fuehrmeyer explains, the undulant, deep purple shades of the background of the label were chosen to cue to grape flavor of the product, while the copy reflects the benefits and formulation of the product: a Premium Adaptogenic Complex. The low shrink-force PETG sleeve label is gravure-printed by Zion Packaging in seven colors, while a matching purple polypropylene cap is supplied by Portola Packaging.
The new product and package—priced at $39.99 for a single bottle; $119.99 for a four-pack—have met with rave reviews from both TriVita and its customers. "We are thrilled with the finished product," says TriVita Product Marketing Director Sargon Daniel. "We have received nothing but compliments about the uniqueness of the bottle shape and the beautiful graphic design. We achieved our goal of creating a unique design that captures the emotions we wanted to evoke."
Companies in this article