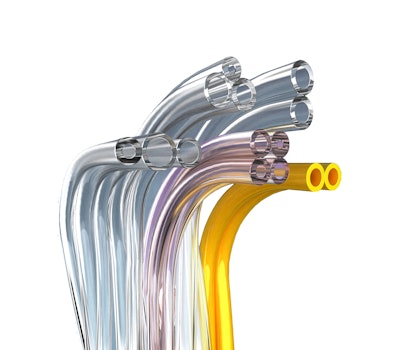 This content was written and submitted by the supplier. It has only been modified to comply with this publication's space and style.
TekniPlex Healthcare paratubing solutions can be produced in up to eight tube configurations, including custom-colored, textured, or striped tube formations to distinguish between flow paths.
Paratubing consists of multiple, single lumen tubes bonded together for operations, such as arterial drills or biopsies, as well as with medical devices utilized for wound management, laparoscopic, neurovascular, and ophthalmic procedures. Paratubing makes it easier for clinicians by eliminating the need for clips and ties commonly used to organize multiple tubes, allowing each individual tube to be peeled apart and affixed to its relevant medical device or equipment for suction, irrigation, drug delivery, or lighting.
TekniPlex Healthcare's validated manufacturing processes yield paratubes with uniform, repeatable, and consistent bonding strength between 0.22 and 1.5 lb, protecting dimensional stability and ensuring each individual tubing line's integrity. Maintaining consistent bonding strength prevents individual tubes from separating prematurely and being rejected by healthcare providers, and eliminates the need for excessive force to peel the tubes apart, which can damage or distort them to the detriment of patients.
Manufactured with tight inner and outer diameter tolerances, TekniPlex Healthcare paratubing solutions are available in standard PVC and non-phthalate PVC formulations engineered to accommodate unique device specifications. Customized solutions can include tubing enhancements to assure correct and secure line connection with device ports, fittings, and luers. Custom validation services also are available.
"Medical device manufacturers need to consider the implications of tubing design, construction and assembly on device performance, as patient outcomes can be affected," says Chris Qualters, CEO of TekniPlex Healthcare. "Our validated manufacturing processes and rigorous inline testing ensures that paratubing lines consistently meet stringent, diverse device specifications. The result is improved accuracy, efficiency and safety."
Companies in this article