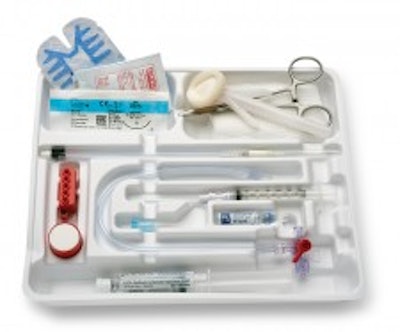 Centurion Medical Products is launching its new smART™ Kit for radial arterial catheterization. Stock trays often include components that are not used in a hospital's protocol while missing others that will be needed during each procedure. The alternative, assembling kits in-house, is time-consuming and may inadvertently introduce pathogens into the sterile field.
The smART Kit aims to decrease procedure preparation time, eliminate wasted materials and advance innovation that may reduce infection risk.
The kit includes the following for placing an arterial line:
Adjustable armboard for quick wrist positioning replaces rolled towels and tape

New dual-perforated fenestrated drape creates a maximal barrier while reducing the risk of accidentally disrupting the line

Centurion radial arterial line with removable guidewire and DualFlash™ technology rapidly confirms flashback and helps avert transfixing the artery

ClearShield™ sterile saline syringe included inside the kit prevents possible field contamination from the introduction of a non-sterile flush

Centurion's patented SorbaView SHIELD® securement dressing secures the line and preserves the site
The kit is the result of collaboration with various doctors and nurses, who noted that there were a handful of stock kits on the market, but very few had everything a clinician needed to prep the patient and place and secure the line, from start to finish. The smART Kit now joins Centurion's other vascular access solutions including its Vantex™ antimicrobial and Multi-Med™ central venous catheters.
Companies in this article