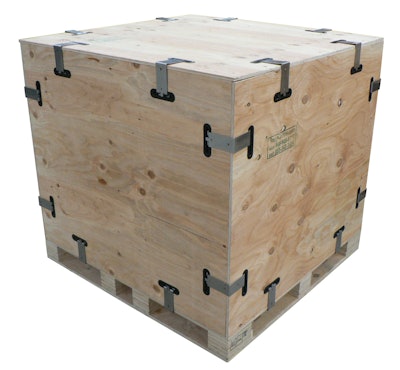 Labelmaster, a manufacturer and distributor of regulatory compliance products and packaging and shipping solutions, has expanded its product line to include SnapCrates, high-quality, heavy-duty wooden shipping and storage containers.These strong, durable crates allow you to ship safely and securely and can be reused up to 30 times, saving crate acquisition and disposal costs as well as space in landfills.
SnapCrates' stainless-steel clip system contains tabs that can be removed without tools. The clip system fits into slots in the wood that are sealed with nylon inserts, preventing moisture damage and allowing clips to easily slide in and out of crates.
By removing the clips, crates can be broken-down and laid flat for storage, freeing up warehouse space. They can be reassembled quickly without the use of tools. These environmentally friendly crates are for manufacturers of automotive, industrial, aerospace, medical equipment products and other industries that utilize closed-loop shipping systems.

SnapCrates are available in the following sizes. Additional and custom sizes are also available.
• 32 in. L x 32 in. W x 22 in. H, 8.4 cu-ft volume
• 36 in. L x 36 in. W x 36 in. H, 27 cu-ft volume
• 40 in. L x 48 in. W x 42 in. H, 47.6 cu-ft volume
• 48 in. L x 48 in. W x 48 in. H, 64 cu-f. volume
SnapCrates feature ¾-in. CDX, 5-ply plywood panels, 301 stainless-steel clips, durable nylon inserts, and four-way pallet bases.
Companies in this article