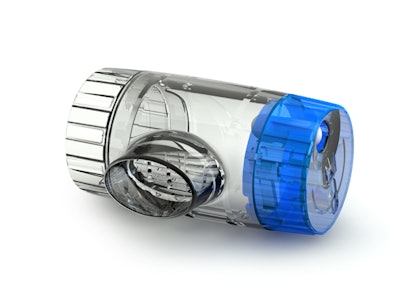 TwisterTM aims to bring cost-effective drug delivery devices to pharmaceutical companies, helping them market affordable healthcare treatment to patients worldwide.

In the U.S. and Europe, the majority of asthma drug sales are currently delivered via DPIs and pressurized Metered Dose Inhalers (pMDIs). In Asia and Latin America, asthma has been treated predominantly with pMDIs, which are considered to be a more cost-effective device proposition than DPIs. Healthcare reforms in these regions and other growing markets are making asthma diagnosis and medication more available to patients. Aptar Pharma is anticipating that the DPI growth trend will spread. TwisterTM is by nature simple to use, and will allow a wider range of asthma sufferers to not only gain better access to medication but also become more compliant with the treatment they receive due to its feedback design.

During the development process, Aptar Pharma tested and collected data on various drug formulations, validating TwisterTM as an off-the-shelf device, suitable for a variety of different drug compounds and formulations.

TwisterTM is a transparent, patient-friendly device that requires simple steps to operate--insert, twist, and inhale--and the patient will be guided by various audible and visual feedbacks confirming that the full dose has been properly delivered.

TwisterTM was developed by a global Aptar Pharma product development team. The project was initiated in France and further developed in China. It is another step forward in the global manufacturing expansion of Aptar Pharma, with molding and assembly taking place in a class ISO 7 cleanroom at the company's manufacturing facility in Suzhou (near Shanghai), China. Among the pioneers of local manufacturing in China, Aptar Pharma Suzhou was opened in 1996 and currently produces pMDI metering valves and spray pumps for the Asian market.
Companies in this article