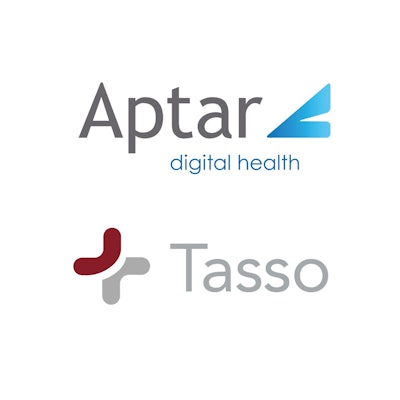 This content was written and submitted by the supplier. It has only been modified to comply with this publication's space and style.
Aptar Digital Health, a provider of Software as a Medical Device (SaMD), digital Patient Support Programs (PSPs) and disease management solutions, and Tasso, Inc., a provider of patient-centric, clinical-grade blood collection systems, enter into a collaboration to offer Aptar Digital Health end-users access to Tasso's devices for blood collection. The collaboration will focus on improving patient care through a simplified and integrated experience, delivering clinical value to patients through a real-world deployment and increasing adoption of new technologies by patients, providers and pharmaceutical companies.
"The collaboration with Tasso to offer their technologies is a further step towards simplifying the patient journey," says Sai Shankar, president of Aptar Digital Health.
The Tasso blood collection devices will be available to patients included in Aptar Digital Health randomized-clinical trials and real-world studies, as well as to life science companies with whom Aptar Digital Health collaborates to develop digital health systems, such as digital therapeutics, disease management platforms and digital PSPs.
Patients will have access to the Tasso+ and Tasso-M20 devices. The Tasso+ is an U.S. Food and Drug Administration (FDA) Class II 510(k)-cleared blood lancet that collects liquid whole blood samples, and the Tasso-M20, which is CE-marked, collects volumetrically-controlled dried whole blood samples from the patient for delivery to the lab. Onboarded patients will monitor their disease and symptoms through the digital health app provided by Aptar Digital Health and, when a blood test is required by the healthcare provider, samples will be collected with Tasso's devices and sent for analysis.
The devices developed by Tasso collect clinical grade blood that can contain a large range of blood markers, from lipid and liver analytes to antibodies to detect serostatus, and specific select enzymes and proteins to certain cancer-specific antigens. This initiative will accelerate the use of a decentralized approach to blood collection and reduce the burden on patients related to laboratory testing.
"Our proprietary technology allows for easy, virtually-painless remote sample blood collection, creating an easier and more pleasant experience for patients and shifting how clinical research can be executed," says Ben Casavant, PhD, CEO and co-founder of Tasso. "We are dedicated to expanding access to patient-centric care, reducing barriers and supporting greater adoption of decentralized clinical trials."