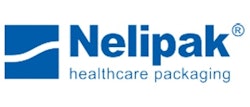 Nelipak Corporation, a provider of rigid and flexible packaging for the medical device and pharmaceutical sectors, has been recognized with a 2021 AmeriStar Award in the medical device category for the company's work on the Militenyi CliniMACS Prodigy tubing set.
The AmeriStar Awards, presented by the Institute of Packaging Professionals, are one of the industry's oldest and most prestigious design competitions honoring the best packages of the year. Judges evaluated submissions based on performance in the following categories: innovation, product protection, economics, package performance, marketing and environmental impact.
Nelipak Healthcare Packaging has created an innovative package for a blood management tubing set for its customer Miltenyi Biotec. The thermoformed carrier allows the product to be shipped with all the components assembled in the correct order, in the correct place, making it possible for a single person to load the complex set. The package folds into itself to be in the right position, so the technician can place the pack onto the machine, and everything is presented correctly. The packaging provides clear, error-free application of the tubing set to the CliniMACS Prodigy Instrument speeding up preparation time between batches.
The packaging properly protects and secures the product, so items are not damaged during transit. The package's sustainable ergonomic design reduces the materials used while retaining the CliniMACS Prodigy tubing set in place. As an alternative to printing, the instructions that indicate how the tubing must be connected are engraved to ensure that the material is recyclable. The volume is utilized, and the seal width is reduced to a minimum in order to reduce plastics, save plastic weight and decrease the footprint of the packaging.
"The Nelipak Healthcare Packaging team is grateful to be acknowledged in the AmeriStar Awards for our innovative design," said Bob Jacobs, team leader product design, Nelipak. "As a global leader in designing manufacturers' most stringent requirements, we are fortunate to collaborate with companies such as Miltenyi Biotec to create cutting-edge solutions." 
Companies in this article