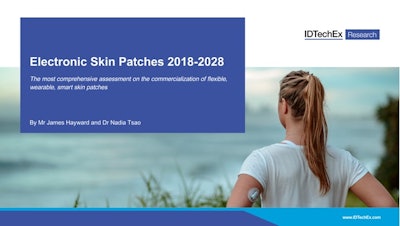 A decade from now electronic skin patch market revenue will soar to $15 billion, up from $4.8 billion in 2018. Behind the growth: the inevitable push of technology.
The forecast comes from IDTechExResearch's recent report "Electronic Skin Patches 2018-2028," which points to examples such as temperature sensors in skin patches, which have found applications in fever monitoring and fertility monitoring, as well as detecting the chemical composition of sweat and different application options from assessment of athlete hydration through toproposals for detection of potential higher value sensing.
The report notes, "Motion sensing in skin patches has been used in areas such as in enabling detailed motion capture input for VR or animation, or through similar motion capture to assess recovery from an injury, efficacy of a certain drug in clinical trial or technique in sport."
The report covers 26 different application areas (including cardiovascular monitoring and diabetes management), 85 companies and 95 different product case studies. It includes historic market data by sector and subsequent market forecasts predicting that revenue from electronic skin patches will reach $10 billion by 2023 and $15 billion by 2028.
"Electronic skin patches could well be described as the ultimate wearable electronic devices," says IDTechEx. "They deploy electronic components, including sensors and actuators with appropriate processing, energy storage and communication, directly onto the body, typically attached using an adhesive. Therefore, along with smart apparel and perhaps implantable devices, they serve as one of the most direct means to augment the user with technology. There is a long tail of many potential emerging applications, which are the focus for many of the companies targeting future opportunities here."