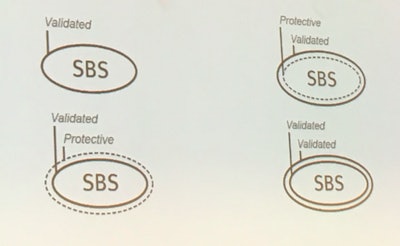 Last September, Healthcare Packaging interviewed Kelli Anderson from Network Partners on details of the new EU Medical Device Regulation, which replaced the existing Medical Device Directive [See Part 1 and Part 2 of that interview].
At PharmaPack Europe, Thierry Wagner, Regulatory Affairs Director, Europe, Middle-East & Africa, at DuPont Medical and Pharmaceutical Protection gave quick takes for packaging professionals, and discussed a new sterile barrier system symbol in the works. He noted that validation of packaging is a clear requirement, on the same level as sterilization, and that the focus on the life cycle of the device includes the design and entire lifetime of the packaging. Scroll below for a piece of advice on validation...
Previous: "…eliminate, or reduce as far as possible, the risk of infection to the patient"
New: "Design shall allow for easy and safe handling and… minimize microbial contamination"
Previous: "…remain sterile, under the specified storage and transport conditions:"
New: "Until the packaging is damaged or opened at the point of use"
New: "It shall be ensured that the integrity of that packaging is clearly evident to the final user"
"That packaging" signifies "packaging that is intended to maintain its sterile condition."
New: "…processed, manufacturing, packaged and sterilized by an appropriate validated method"
Sterile Barrier System
Another new clause in the MDR, under Label and instructions for use, is the requirement for "an indication permitting the sterile packaging to be recognized as such."
To help healthcare professionals quickly determine the validated sterile barrier on packages that have more than one layer, the Sterile Barrier Association is proposing a new symbol, where the solid line indicates a validated barrier and the dotted line indicates an additional protective layer, such as a dust cover.
Survey results on the new symbol are available at this link.
While the symbol may help during the precious seconds in aseptic presentation, Wagner noted that there are challenges associated with symbols, such as fitting them on packages and ensuring that people recognize what they signify.
Advice
Validation is a clear requirement, but Wagner said that companies don't necessarily have to repeat validation in every case, if they are careful to apply validation to a packaging family and validate for the worst case.
Companies in this article