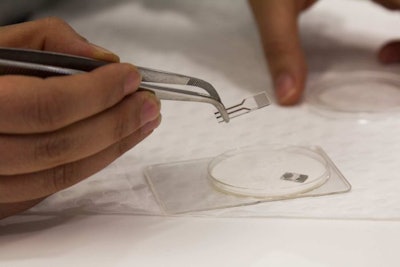 A recent ABC Radio Sydney article noted Dr. Noushin Nasiri, an engineer at University of Technology Sydney, is using nanotechnology to develop what would be the world's smallest sensor capable of detecting disease in a patient's breath. The breathalyzer would work by identifying biomarkers in the breath; currently there are 17 diseases that have clear biomarkers in human breath including diabetes, lung cancer, breast cancer, Parkinson's disease, asthma schizophrenia, and kidney and liver failure.
Dr. Nasiri says there's a higher chance of early detection by analyzing breath, allowing doctors to detect a disease before it enters the bloodstream or before cancer spreads enough to be picked up in an MRI. She notes that lung cancer is typically found at stage 4 giving patients a 10% chance of survival, but if identified early in the breath the chance of recovery could be 80%.
Nasiri believes a base product capable of detecting four to eight diseases is about three years away from hitting the market. Her long-term goal is to develop a sensor that detects 10 diseases in one breath that can deliver results via a smartphone app.