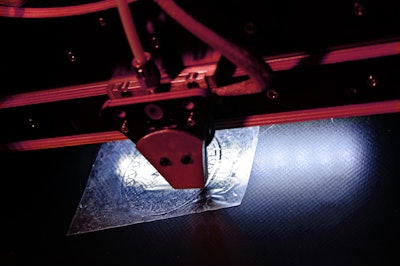 CNN.com's Feb. 14 video, "Scientists grow a human lung in a lab" gives us an idea of what's under development in engineering human organs.
The ongoing development of 3D printing also offers promise in this area, as evidenced in a May 23, 2013 CNN video, "3-D printer helps save dying baby."
3D printing received attention at MD&M West Feb. 10-12 at the Anaheim Convention Center. One of the events was a guided tour of five preselected exhibitor booths that focused on 3D printing developments. About 50 conference attendees donned headsets and listened in as tour guide and Healthcare Packaging "The Future of Medicine" Contributing Editor Dr. Michael Drues led the group to the various booths. These exhibitors were employing 3D technology for a variety of industries and applications. Making parts for bottle-molding equipment was the closest tie-in to packaging noticed by this editor. The primary challenge in 3D printing of medical device cited by many of these exhibitors was a limitation of materials available for 3D printing, although that situation continues to evolve.
In a Jan. 27, 2014 Healthcare Packaging article, Drues suggested it might be time for medical device manufacturers to consider a new business model for 3D printing.
A podcast of Drues' MD&M West presentation, "Competitive Regulatory Strategy: Using Regulation to Your Competitive Advantage," is available on YouTube.com.
Beyond engineered human organs and 3D printing, here are two additional medical device developments worth keeping an eye on, although they aren't packaging-centric at this point:
• "Apple looking at cars, medical devices for growth: report." This Feb. 18, 2014 Reuters story notes that as iPhone and iPad revenue growth slows, Apple "is also exploring medical devices and sensors that can help predict heart attacks by studying [the] sound blood makes at it flows through arteries.
"The company's Senior Vice President of Operations, Jeff Williams, has met with U.S. Food and Drug Administration chief Dr. Margaret Hamburg and Dr. Jeffrey Shuren, who oversees the agency's approval for medical devices, to discuss 'mobile medical applications.'"
• A Feb. 18, 2014 Web MD story, "'Talking' Medical Devices, Apps Continue to Evolve," reports on, "'talking' medical devices and apps, among other techy health-focused inventions, that help people manage everyday wellness routines, such as taking pills and checking blood sugar levels, as well as dire medical circumstances."
The story quotes Benjamin Arcand, Associate Director of the Innovation Fellow Program at the University of Minnesota's Medical Devices Center, as saying, "People have been thinking about talking devices for a long time. The technology has been trying to rise up above the surface for a long time. …What I think you'll see is user-friendliness is going to go up over time. About 10 or 20 years ago, we saw this huge bloom of all these medical devices. Now that the industry is maturing and there's more regulation and less funding capital, new device development is slowing down."
Medical device packaging events
To learn more about medical device packaging issues and technologies, two upcoming events to consider are:
• HealthPack 2014. The March 11-13, 2014 event in Albuquerque, NM, includes an Opening Keynote presentation on "What's Trending Next in UDI and Medical Device Packaging," by Jackie Elkin of Medtronic; a "Voice of the Customer" survey in which nurses evaluate medical device packaging and presentations from Cardinal Health's Ondrea Kassarjian and DePuySynthes USA's Laure Larkin.
• Medical Device Packaging. The April 28-29 conference in Arlington, VA, opens with Amanda Kiefer of Smith & Nephew discussing "Bringing Innovation Back Into The Packaging Design Process." Presenters include Joyce Hansen of Johnson & Johnson, Jay Crowley of USDM and former Senior Advisor For Patient Safety at FDA, and a "Voice Of The End User: Understanding The Healthcare Professional's Perspective on Device Packaging," with George Washington University Hospital are among the highlights of this event.
One final note: In late in 2012, the U.S. Food and Drug Administration announced that it is part of the first public-private partnership to speed medical device development, assessment, and review. The Medical Device Innovation Consortium, says FDA, "is an independent, nonprofit corporation, created by LifeScience Alley, a biomedical science trade association. The MDIC will receive input from industry, government, and other nonprofit organizations. MDIC will prioritize the regulatory science needs of the medical device community and fund projects to help simplify the process of medical device design and pathway to market for these innovations."