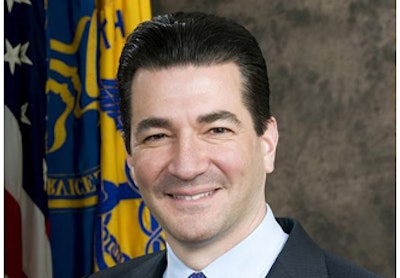 On Oct. 20, FDA said it had "joined federal and local agencies in the effort to help the people of Puerto Rico recover and begin to rebuild the island."
The agency reported that it is "working closely with dozens of pharmaceutical and medical device companies to help these important facilities get back online; enabling employees to return to work and manufacturers to ramp up production of medical products used by all Americans."
Commissioner Scott Gottlieb, MD, said, "There are currently more than 50 medical device manufacturing plants in Puerto Rico, employing about 18,000 people. Collectively, they manufacture more than 1,000 different kinds of medical devices. These include simple but essential products like surgical instruments and dental products as well as complex devices such as cardiac pacemakers and insulin pumps.
"To date, we're monitoring about 50 types of medical devices manufactured in Puerto Rico that are critically important to patient care because they may be life-sustaining or life-supporting and/or because they may be the single manufacturer of that device type. The FDA is working closely with about 10 manufacturers—some of which are the sole manufacturer of a certain device type—to prevent medical device product shortages across the U.S. We are particularly focused on blood-related medical devices.
"Most, if not all, of these medical device manufacturers continue to run on generator power, and as a result, have been unable to return to pre-hurricane production levels," said FDA's statement.
Is Navy Hospital Ship Really Providing 'Comfort' in Puerto Rico?
A quick sail around The Weather Channel's website delivered this editor to the story, "As Health Crisis Looms in Puerto Rico, Navy Hospital Ship Sits Mostly Empty."
The logistical challenges and the process of getting sick patients off the island and onto the floating hospital USNS Comfort were reported as the primary reasons why just 33 of 250 available beds were being used, according to the article.
The U.S. Naval Institute describes Comfort as "an afloat, mobile, acute surgical facility, providing the same level of medical care found at a major shore medical hospital such as Naval Medical Center Portsmouth or the Maryland Trauma Center in Baltimore."
A Military Sealift Command report notes the ship measures about three football fields long and includes a helicopter deck. Recognizable by its 27-ft-wide red crosses, the USNS Comfort carries $4.5 million in medical supplies and more than 20,000 small medical instruments, as well as a blood bank that stores refrigerated, frozen, reconstituted and fresh blood. The Comfort's surgical facilities include 12 operating rooms.
Companies in this article