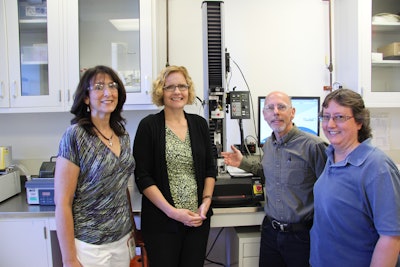 Editor's note: Women In Packaging is an occasional series reporting on the career challenges women in packaging face and the advice they have for other women building careers in the packaging function.
Healthcare Packaging: How did you come to occupy your current role?
Larkin: I was recruited into my current role by individuals who had heard me speak at industry events on the topic of Best Practices in Medical Device Stability Testing—(Product & Packages).
What challenges have you had to overcome in your packaging career?
Larkin: Like most of us who have been in industry for longer than we might care to admit, I have had to overcome a variety of challenges from a career perspective.Because I am a crusader and a change agent by personality, each of the challenges was in fact an opportunity to more clearly see where I could make a greater impact within my organization.
I joke that my undergraduate degree in Conservation Science formed the foundation for everything to come, even though it was truly my first challenge. When I was majoring in Conservation—defined in the traditional sense of preventing waste—(it was) at the very time where the skill was being devalued by the government.
With my degree in one hand and empty job prospects in the other, I made a choice to focus my crusading nature from saving the land, air, and water for future generations to obtaining an advanced degree with a focus in Food Microbiology.This would offer me the opportunity to save current and future generations from food poisoning.
If we look at my career as a project, I could say I narrowed my scope considerably.This narrowing of focus is what became the cornerstone of my career progression.By developing a strong subject-matter expertise in a topic that was still my passion, but in a niche that was under-resourced, my options for a career path opened significantly. These early positions in R&D allowed me to develop considerable skill in becoming a Compliance Sentinel for my company.
What advice do you have for the next generation of young women and girls?
Larkin: Follow your passion while simultaneously being willing to refocus or narrow your focus to stay competitive.Look for how your skills tie to emerging or niche business needs.There is more stability when you have the expertise to qualify as a big fish in a small pond.
What signs of hope (or discouragement) do you see when it comes to women in packaging for the future?
Larkin: Many companies are staffed with deep subject-matter experts who are on the tail of the baby boomer generation.These organizations are on the cusp of a potential loss of intellectual property via retirement attrition. This means that the managers of those organizations would be well served by making a case to add positions to include entry-level package technicians and engineers who can begin mentorship programs now.The universities are producing students with the right qualifications. It is up to industry to pass along the critical business application knowledge and skills.
How does the packaging community work with schools to help train women to be ready for careers in packaging?
Larkin: There are several programs at many of the top companies where employees mentor students. Additionally, some companies partner with universities to facilitate curriculum and industry speakers to inform and inspire the students.Industry organizations like IOPP offer training and scholarship programs that also help.
What about teaching them about good paying careers?
Larkin: This should start at the high school level, getting the word out at the national level to the school counselors. Including salary information as it relates to opportunities may generate more interest.
How do we increase the interest in manufacturing, math, science, etc.?
Larkin: I would like to see industry revisit the concept of apprenticeships. I am a classic example. I always enjoyed science but hated math when I was young.Now it is a key part of my job.The missing link to get me to be interested was the application piece. As a youth, math concepts were "hard, boring and useless," while applied math made sense.If we could develop an apprenticeship program we could perhaps simultaneously spark the students interest, keep them busy and out of trouble, create a source of income and obtain work/study credit hours.
How can women stand up and gain a more equal footing to men when it comes to income?
Larkin: I would say the same as before—the women in the packaging community have to take the lead in getting out the message.We have to publish, present, mentor and be visible.It is all about setting the example.When we get into positions of responsibility, we have make sure we enforce a concept of pay fairness within our organizational responsibility.
Companies in this article