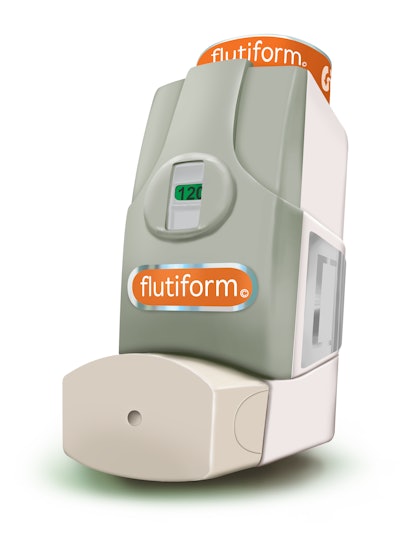 Aptar Pharma, developer and manufacturer of nasal and pulmonary drug delivery devices, has developed a customized Dose Indicator for Flutiform®, a SkyePharma product licensed to Mundipharma Intl. Corp. Ltd. in Europe.
Flutiform is a combination of fluticasone propionate (fluticasone), an inhaled corticosteroid (ICS), and formoterol fumarate (formoterol), a long-acting beta2-agonist (LABA). It is indicated for the maintenance treatment of asthma in patients aged 12 years and over (50/5μg and 125/5μg strengths), and in adults (250/10μg strength) whose symptoms are not adequately controlled on an ICS and an as-required inhaled short-acting beta2-agonist (SABA), and in those patients who are already receiving treatment with both an ICS and LABA.
Flutiform is now available in several countries including Germany and the U.K., and EU marketing authorizations have been granted in a number of other European countries.
Asthma is estimated to affect approximately 30 million people in Europe, and its prevalence is increasing. Six million of these asthma sufferers have severe symptoms and up to 20% of children are affected by the disease. A recent study showed that asthma is costing over 19 billion euros in healthcare and lost working days.
Aptar Pharma is continually expanding its portfolio of drug delivery device solutions to the pharmaceutical industry. This portfolio includes a full range of metering valves, dry powder inhalers and dose indicators, as well as mechanical and electronic dose counters.
Flutiform is in a pressurized Metered Dose Inhaler (pMDI), and incorporates Aptar Pharma's Landmark dose indicator technology and customized metering valve.
With the help of Aptar Pharma's R&D team, Flutiform was customized to include the dose indicator actuator, which indicates the remaining doses downwards and provides the patient with a visual color and numerical reference when it is time to renew the prescription before the canister becomes empty. This is regarded as an important safety benefit to patients. The Landmark dose-counting mechanism operates independently from the patient's actuation force.
"SkyePharma is a key client for Aptar Pharma. We are particularly proud to have developed the customized versions of Landmark and metering valve for Flutiform," said Pierre Carlotti, vice president of marketing and communication for Aptar Pharma Prescription Division.
"For the first time in Europe, Flutiform is now available to both patients and doctors, combining two of the most effective asthma medications available. Flutiform offers patients a new fast-acting maintenance treatment in a modern and easy to use inhaler," commented Peter Grant, CEO of SkyePharma. "We are pleased with the results of our collaboration with Aptar Pharma, who understood perfectly what we required, and developed the customized Landmark dose indicating actuator and metering valve, key components of Flutiform."
RDD Europe registration
On a separate note related to Aptar Pharma, the Respiratory Drug Delivery (RDD®) Europe 2013 scientific conference will welcome pulmonary and nasal drug delivery experts from all over the world to Berlin, May 21-24, 2013. The joint organizers of this prestigious event, RDD Online® and Aptar Pharma, announce the opening of registration.
RDD conferences take place in both Europe and the U.S. in alternate years and are regarded as a premier venue for presenting the latest pulmonary and nasal drug delivery advances. RDD 2012 was held last May in Phoenix, AZ. More than 450 delegates are expected to attend the May 21-24 meeting at the Intercontinental Hotel Berlin, Germany. The scientific symposium will welcome an audience of academic, industrial, and regulatory experts involved in the research, development, investigation, and marketing of new therapies for delivery through the nose or lungs.
Companies in this article