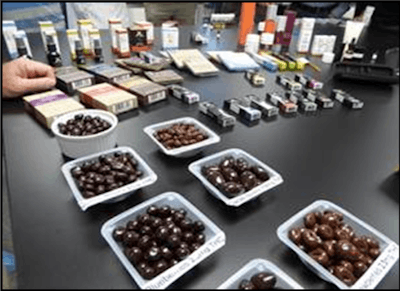 Here are nine key packaging and distribution details that regulators mentioned at the 2019 North American Cannabis Summit in Los Angeles:
Licensees must use track-and-trace systems to monitor products up to the retail site.

To avoid appealing to children, products themselves can't be shaped like an animal, human, insect or fruit.

Certain foods have been ruled out. No dairy other than butter is allowed (to uphold safety, help prevent botulism). Nothing addictive can be added to cannabis products; chocolate is acceptable but caffeine or alcohol are not.

Licensed distributors are supposed to check if packaging and labeling are in compliance. They are also tasked with organizing the testing that products must undergo.

Though many people assume that the largest proportion of cannabis testing failures are caused by pesticides, most failures are actually attributed to the cannabinoids: Content does not match the THC content on the label.

Distributors are forbidden from distributing anything that resembles or is labeled as alcohol, including beer, wine, margaritas and more.

Mirroring issues in pharmaceutical packaging, an audience member noted that the labels/warnings are too small to read. Regulators said it's quite challenging fitting all the necessary text on small packages so 6-pt font is what they require.

Another audience member asked about the environmental impact of all these single-use packages. The regulator said that he appreciates the concern but could not provide an answer for that issue at this time.

Regulators at times have trouble pulling information out of producers to get them licensed. It's a big 180 for companies; just a few years ago, record-keeping was a liability and not an asset.