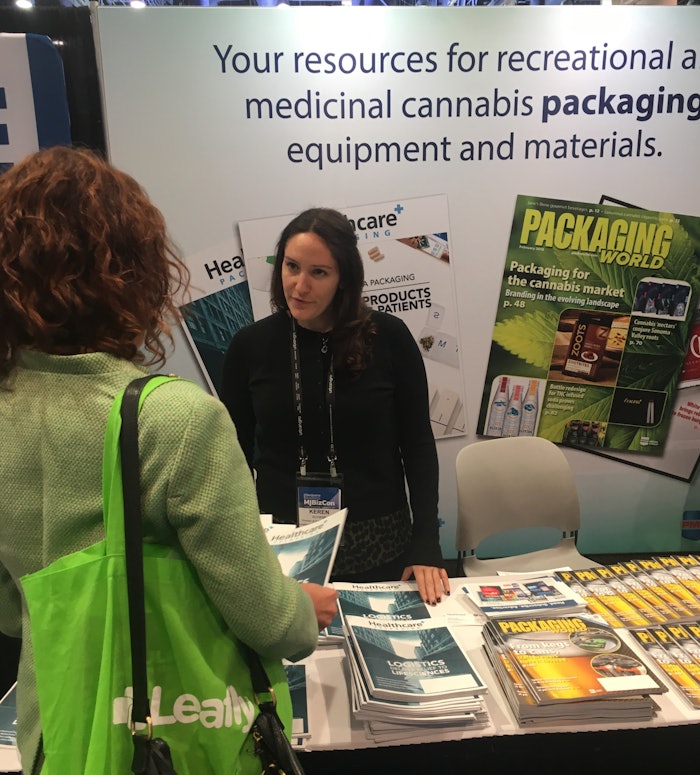 The show floor was packed here today at MJ Biz Con in Las Vegas! The consensus among most people we talked to is that, while cannabis packaging and retail environments are quite sophisticated (or getting there), the processing and packaging operations remain lightyears behind. Many companies are still performing manual packaging operations, dealing with high employee turnover rates and slow throughput.
As one of the few exhibitors here with packaging machinery, the Filamatic booth across from ours was busy all day with prospects. There are quite a few booths exhibiting technology upstream—for cultivation or extraction, for example—and lots of interest at the packaging suppliers as well. A few people mentioned to us, particularly those from Canada, that they are on their way to major expansions and are waiting on delivery of packaging and labeling machinery.
In terms of metered dosing, Potbotics launched its Ryah dose-measuring vaporizer which syncs up to a phone and features a user-friendly app. After the user scans the code on the cannabis capsule, the app alerts the user when a dose has been completed in real-time (thanks to an airflow sensor), and allows the user to track symptom relief and side effects specific to the strain they used in order to optimize future dosing regimens.
It was great to hear from all the passionate people who are looking to deliver cannabis to adults and children that need it, and to see that so many are taking child resistance so seriously. Denver Custom Packaging, Green Tech Innovations, Leaf Locker, and Green Rush Packaging (just to name a few!) showcased child-resistant packaging options in the form of wide-mouth bottles, stay-fresh cans, pop tops and slide boxes.
If you're here at the show, come visit us at booth #3915 or check out our conference presentation, "Packaging Considerations: Choosing the Right Materials & Machinery" at 9:30am on Thursday, Nov. 16.