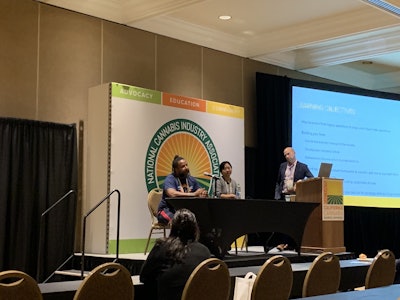 Scaling and rollout across states
Guy Rocourt, Chief Product Officer at Papa & Barkley, feels that as legacy brand it's important that they have a role in rolling out the cannabis industry correctly. He noted at #CACannaBizCon that in some states—more on the east coast—cannabis is being looked at solely as a medical product, where it's being turned into powder or only allowed in vape pens. Some see this as eschewing the original California cannabis culture, both the product form (flower), its potential effects and its history. Rocourt said, "It can't be looked at strictly as a medical product. It's a wellness product."
With so much continued change in the industry, Caroline Yeh, Director of Commercialization at Kiva Confections, advised attendees not to order a year's supply of packaging at once. "It's a bad idea."
Rocourt echoed the sentiment that there can be a lot of packaging waste, adding that Papa & Barkley had 100,000 units of reclosable child-resistant packaging on its way from China when they became aware that the package actually only needed to be child-resistant on first opening and that the more robust packaging en route was not required.
Even for established brands in the cannabis space, it can be hard to determine when to do a packaging refresh, what language to use on the label and what volume of packaging to purchase.
Consultants
There can be pushback among brands when considering hiring consultants to help scale manufacturing, distribution, implement ERP systems, etc. They may have expertise for other industries, but brands may shy away from bringing in outsiders that don't understand the products or the company's mission.
One area where the panelists agreed on hiring an expert is becoming Metrc compliant. Metrc is the state's system used to track commercial cannabis activity and movement across the distribution chain ("seed to sale"). When the requirement came into effect for California, companies had to bring in expertise from Colorado.
Compliance at scale
Quality control during or after expansion is a challenge for any producer. Yeh mentioned having more than one gatekeeper under each vertical (operations, marketing, finance, etc.) and performing their own testing of incoming raw materials.
Rocourt said they have quality control staff spread throughout the organization. Even in the test lab where Rocourt and his colleague go to create potential new product offerings for consumer wellness, a quality control specialist is watching their every move and documenting operations to ensure materials and actions are tracked.
Moderator Eric Schlissel, CEO/CTO of GeekTek IT Services, offered his philosophy to attendees for maintaining control while scaling: "If it's important, document it. If it's repeatable, automate it."