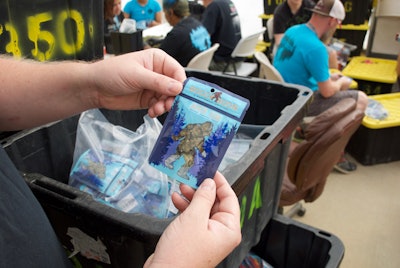 Cannabis can be segmented into three broad categories: Flowers, Concentrates, and Edibles. The differing product types all have unique packaging needs.
Cannabis flower products are dried flowers that are smoked. Some common packaging types include:
Airtight, odor-proof glass jars are preferred by many cannabis companies as they are reusable – and consumers are likely to re-use them after purchase, heightening brand awareness.
Pyrex tube jars are less expensive than glass jars and have more options for custom printing and lid options.
Smell-proof bags are generally the most cost-effective option. These are opaque bags that have zippers to reseal and can be heat sealed, making them tamper evident.
Cannabis concentrates are any product made by extraction (e.g., oils, waxes). Common packaging types include:
Heat-proof borosilicate glass containers allow product to be liquefied without breakage.
Polystyrene containers, the most cost-effective packaging, are more compact than glass and can come with a silicone insert for stickier products.
Acrylic containers are BPA-free and offer a more 'high end' look and feel.
Cannabis edibles are the fastest-growing cannabis product; they range from bakery goods to sodas and teas. Packaging types include:
Tube jars that can be sealed with shrink bands to ensure product integrity.
Single-use bags using food-grade films to ensure freshness, which are also child-resistant.
Resealable, smell-proof bags that can be heat sealed and include a zipper for resealing.
Cannabis packaging is highly regulated and varies by state, but some of the most common requirements are:
Child-proof/child-resistant (includes CR-Packs – a child-resistant tube for vape pens and other products and child-proof zipper bags designed for flower cannabis, child resistant packaging often blends plastic and cardboard materials).
Re-sealable, Tamper-evidentand Opaque
Source: PMMI Business Intelligence, "Here to Stay or Up in Smoke: A Look at the U.S. Cannabis Market."
Download the FREE 37-page PDF Packaging Cannabis report here.