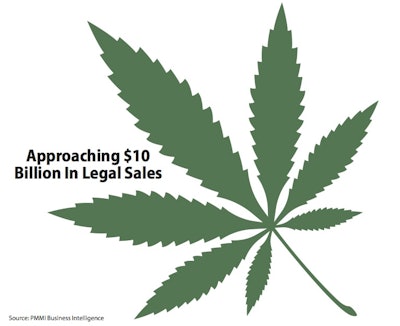 The 13-page white paper, "Here To Stay Or Up In Smoke? A Look at the U.S. Cannabis Market," says sales are growing rapidly, and formats are shifting away from cannabis as a flower/bud into more processed formats of oils, edibles, and topical products.
This provides an opportunity for ancillary businesses like packaging to grow and expand within the industry as well. Current estimates put the cannabis packaging market at less than 1% of industry sales at $15 million. However, experts believe the pace of growth for packaging may eclipse the growth rate of the overall cannabis market as legalization spreads to more states.
Packaging will become more regulated, and cannabis brands will move towards higher-end and more customized packaging options, the report says.
When sales were under $5 billion, most packaging companies were not willing to invest in creating products specifically for the cannabis industry. Instead, OEMs borrow and adapt packaging products from other industries such as pharmaceuticals and cosmetics.
However, with cannabis sales now approaching $10 billion, firms will start to find it worthwhile to develop products specifically designed for the unique needs of cannabis companies.
Download the entire 13-page white paper here.