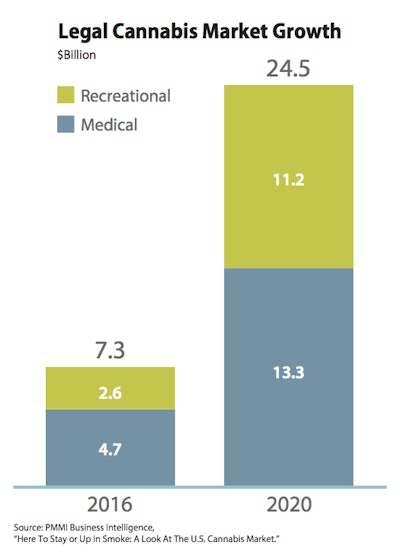 Despite being controversial, the U.S. cannabis industry is growing rapidly. With a product that is quasi-legal, the industry faces many uncertainties regarding its future direction. At the same time, the speed at which the industry is growing leaves companies struggling to keep up with demand as well as the frequent changes common to any nascent industry. The complexities can seem daunting.

Yet, the upsides are often worth the risk, and many cannabis producers are rising to the task of balancing stringent regulations, rising consumer demand, and shifting market landscapes. Last year, the industry topped $7.3 billion – a 35% growth over 2015 – which is higher than the dot com and broadband booms and which many believe is conservative. Indeed, industry experts see this pace of growth continuing over the next five years.

Semi-automatic packaging and labeling machinery are starting to replace a transient workforce. Automation will come to harvesting, curing, trimming and packaging as recreational markets drive fast-paced growth and growers/processors struggle to meet demand..

Source: PMMI Business Intelligence, "Here To Stay or Up In Smoke: A Look At The U.S. Cannabis Market." Download the white paper here.