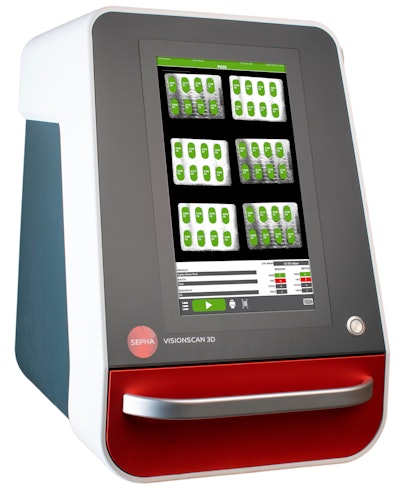 At PACK EXPO International 2022, West Hall Booth W-14019, Sepha will showcase its latest packaging and leak test innovations, including VisionScan 3D, the Multi-Q HD, and the EZ Blister+.
Taking center stage will be Sepha's two key products from the leak testing range, the VisionScan 3D and Multi-Q HD. Both are non-destructive and reliable quality control systems to test the integrity of pharmaceutical packaging, including blister packs and parenterals. They are in line with American Society for Testing and Materials (ASTM) standard test methods and United States Pharmacopeial Convention (USP) 1207 guidelines that prefer deterministic methods. They also can form part of a 21 Code of Federal Regulations (CFR) Part 11 compliant environment.
VisionScan 3D

– a blister leak test solution built around a new patented 3D measurement technique to test the integrity of pharmaceutical blister packs. The 3D technology is used in combination with differential pressure and vacuum, and enables the machine to detect leaks in individual blister pockets as low as 5μm (pack and material dependent). The new technology can be applied to all foil types, matt or gloss. Different text patterns can be tested with one test method, making it ideal for production lines with multiple language print variations. The system is designed to allow for easy calibration, quick set up times and a streamlined validation process across different foil types.

Multi-Q HD

– a non-destructive, deterministic, and reliable Container Closure Integrity (CCI) test system developed to detect leaks down to 1μm in parenteral containers. CCI testing is critical for parenteral applications as they often contain drugs that have a short shelf life and are highly sensitive to oxygen or moisture; even the smallest defect can affect sterility and efficacy of the drug. As the content is injected directly into the tissue or bloodstream, any

compromized container can jeopardize patient safety. These applications often have a lower Maximum Allowable Leakage Limits (MALL) and require a higher level of sensitivity to demonstrate CCI.
Blister+ – a small blister pack machine that meets the need for electronic data storage capabilities and digital connectivity. It provides the same proven blister packaging performance, but with added software capabilities that enable the creation of electronic signatures, batch reports, audit trails and other electronic documentation. The EZ Blister+ offers a 3-in-1 manufacturing process including forming, sealing, and perforating/cutting. The EZ Blister+ has been developed to answer calls from larger pharmaceutical manufacturers and Contract Manufacturing Organizations (CMOs) for a small-scale blister packaging machine with 21 CFR Part 11 capabilities.
Companies in this article