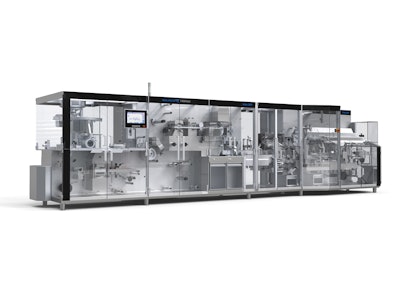 This content was written and submitted by the supplier. It has only been modified to comply with this publication's space and style.
At PACK EXPO International Booth W-18030, Romaco will be presenting its Romaco Noack Unity 300 climate-neutral blister packaging line and its Romaco Kilian KTP 1X R&D tablet press. The machines are available either as standalone units or as integrated lines, and are shipped with an energy monitor for detecting CO2 emissions. They can also be supplied in a carbon-neutral version.
The integrated Unity 300 blister packaging line from Romaco Noack is designed for the low- to medium-speed segment and meets all the requirements for more climate-friendly pharmaceutical production. The sustainability monitor with smart standby functions has been implemented to oversee the power and air consumption of the single-track blister line and reduce the base load of the machine without any negative impact on overall equipment effectiveness (OEE). At less than 8 meters long, the monobloc is comparatively short, so that carbon dioxide emissions are much lower, especially in the cleanroom for the primary packaging.
The space-saving design is due, among other things, to a swing-out IPC magazine, which ensures convenient access to the die-cutter behind it in case of format changes. There is also the option of repositioning the forming foil reel inside the machine. A compact, energy-efficient indexing wheel transfers the blisters from the rotary sealing machine to the continuous motion cartoner. The Unity 300 achieves a maximum output of 300 blisters and, depending on the cartoner, either 200 or 300 cartons per min. The blister line is fitted with 100% recycled acrylic glass panes and is available in a carbon-neutral version.
The KTP 1X is the newest generation of Romaco Kilian's R&D tablet presses for laboratory use. This single-stroke press was designed as an all-in-one instrument for research and development activities. It is suitable for pressing mono-layer, bi-layer, and triple-layer tablets, as well as tab-in-tab formats. The KTP 1X achieves a maximum output of 1,800 tablets per hr and compression forces of up to 80 kN. This R&D press enables the various tableting parameters, such as compression force or the possible tableting speed, to be determined automatically. The smart measurement system evaluates huge amounts of data in next to no time for this purpose.
The KTP 1X is capable of replicating any standard rotary press, making it easier to conduct scale-up trials. In addition to the production of clinical samples, the technology allows detailed troubleshooting, supporting process optimization. Thanks to the machine's rigidity, the punch position can now be measured more precisely. This high measuring accuracy goes hand in hand with extremely low product consumption, making the KTP 1X not only cost-efficient but also sustainable. Only a few test series are required to obtain meaningful results because compression studies are highly automated.
Companies in this article