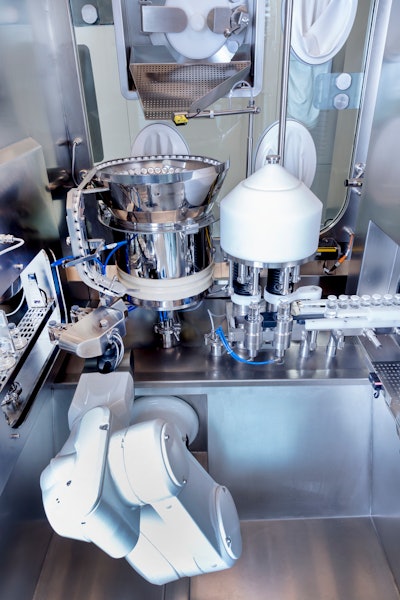 The Steriline RVFCM50 robotic vial filling and capping machine can process up to 2,400 pcs/hr. Once vials are washed and depyrogenated, the first of three robotic arms grasps two vials at a time and places them under the filling heads, which are linked to two peristaltic pumps that potentially allow infinite capacity filling. This step happens directly on two weighing cells, so that the filling volume can be checked in real time during filling operations, and the recipe parameters can be met.
Once they have been properly filled, the vials are moved to the second robotic arm for the stoppering process and then to the third robotic arm for capping. Whenever the check sensors detect any nonconformity during filling, stoppering, or capping, the process can be repeated to guarantee the conformity needed according to the company's "robotics zero-loss philosophy."
The machine was designed to manage highly potent drugs that are potentially dangerous for people and, for this reason, it is equipped with an isolator that ensures the sterility of the processed vials and protects the operator at the same time. This new robotic line will allow the customer, a Contract Development and Manufacturing Organization (CDMO), to further differentiate its offer, processing a wide range of packaging solutions, and add toxic products to its own portfolio.
The RNFM5 robotic nest filling machine under double-wall isolator can process every container that comes in nested form, including syringes, vials, and cartridges. In the filling area, a vertical manipulator, equipped with suction cups, removes the nest from the tub, allowing the first robotic arm to pick up the nest and place it under the filling needles and stoppering heads. A second robotic arm picks up containers and performs the statistical weight checking process, with the help of five high-precision weighing cells located on the machine baseplate. The glass containers are then moved under five dosing heads and simultaneously stoppered. Seals are used on syringes and cartridges, while vials are stoppered with the all-in-one closure system. In addition to the weight-checking sensors, which ensure the right fill quantity, the machine is also equipped with Steriline's smart bung system, which can detect the conformity of the stoppering process.
The RNFM5 answers the need to introduce a new production line to start the commercialization of a new biotech drug. Its output is up to 10,000 pieces/hr with a double-wall isolator solution that guarantees sterility throughout the entire process and maximum safety for operators. This solution perfectly satisfies all the requirements for the production of extremely sensitive drugs, such as biosimilars and monoclonal antibodies, in addition to biotech drugs.
Companies in this article