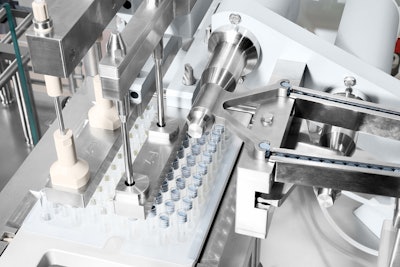 This content was written and submitted by the supplier. It has only been modified to comply with this publication's space and style.
Ideal for biotech companies and 503B pharmacies packaging suspensions, diagnostics, solutions, and/or vaccines, NJM's NFL/2 handles nests of pre-sterilized syringes as well as vials and cartridges. This fully servo-driven system simplifies small scale production to reduce capital costs, minimize floorspace requirements, and speed up changeover.
The NFL/2 fills and seals syringes while they remain in the nest. A vibratory hopper/circular feeder delivers the plungers to the pick-and-place stations, which places the plungers into the syringes using direct drive, servo-motion control. Changeover to another syringe size can be completed in less than 15 min with no tools required.
As a dual station system, the NFL/2 can fill and close up to 4,500 syringes/hr in a compact footprint that's only 6.6 ft long and 3.3 ft wide. For customers requiring faster throughput, the five-station NFL/5 handles up to 10,000 syringes/hr per hour.
To maximize production versatility, the NFL/2 is available with a wide variety of options. Automatic loading and unloading of nested syringes is available, as well as automatic and semi-automatic debagging and delidding. The NFL/2 can be equipped with stainless steel or ceramic rotary piston pumps, which can achieve +/- 0.5% accuracy, or with peristaltic pumps, which can achieve +/- 1% accuracy. If sterile or ISO 5 environments are needed, laminar air flow (LAF), open or closed restricted access barrier systems (oRABS/cRABS) or high containment isolator systems are available. Vacuum-assisted cap insertion and gas flushing reduce O2 levels in the container, if required. Optional statistical process control and particulate counters help ensure final product quality. Clean-in-place (CIP) or sterilization-in-place (SIP) modules are also available.
NFL/2 utilizes servo-driven, X-Y motion to achieve repeatable performance, low maintenance, simple troubleshooting, fast changeovers and easy addition of new formats. An Allen-Bradley PLC controls the machine functions and a Beckhoff PC-based 15-inch (38 cm) color touchscreen presents a large and intuitive user interface. All production parameters, including dosing volumes and speeds, can be programmed via the HMI.
The NFL/2 can be equipped with data recording software to export the production data in compliance with 21 CFR Part 11. Featuring a 304 stainless steel frame and electro-polished 316 stainless steel product contact parts that meet FDA approval for use by pharmaceutical and biotech manufacturers, the NFL/2 is designed in compliance with cGMP.
Companies in this article