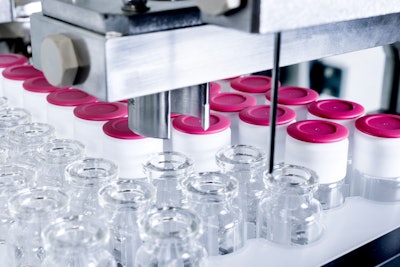 At CPhI, Steriline presented its new Robotic Nest Filling Machine (originally intended for syringe-filling only), working with the RayDyLyo® system (the all-in-one closure system developed by ARaymondLife which integrates a plastic push-fit cap as an innovative alternative to aluminium caps) and the SG EZ-fill® vials in nest by Stevanato Group.
The features of the RayDyLyo closure system are particularly suited to produce small and medium volumes in R&D laboratories or pilot lines, which is why Steriline chose to develop a solution working with RTU (ready-to-use) containers. Customers generally request flexible and high-speed equipment for R&D processes, and this system offers simple and fast changeovers that can be executed in a reasonable timeframe.
"The development of the machine itself was not too complex since our stoppering and capping system could be very easily adapted to the RayDyLyo system," says Giovanni Panzeri, area sales manager MEA at Steriline. "Of course, the cap feeding system and stopper / cap pick-and-place unit must be adjusted to the physical characteristics (such as dimensions and weight) of the new caps, which means this must be considered in the design of the equipment."
Fabio Bertacchini, product management director at Stevanato Group, explains the pre-sterilized SG EZ-fill vials are "available in Nest&Tub or tray configuration to accommodate different customers' needs, they are an ideal solution both for clinical batches and commercial production. SG-EZ fill® vials seek to maximize filling efficiency, preserve the glass mechanical resistance and reduce particle generation, streamlining production operations."
"The pandemic has accelerated the demand for flexible filling equipment and RTU packaging solutions, hence our collaboration with Steriline and Stevanato Group. Several joint projects are ongoing," confirms Pascal Sircoulomb, business development manager at ARaymondLife, including with some of the world's largest pharma companies.
Adds Federico Fumagalli, chief commercial officer at Steriline. "With the RayDyLyo® closure system, it is no longer necessary to have end-of-line capping, which needs to be done in a separate sterile environment. As an example, in case of freeze-dried products, it is possible to finalise vial closure in a sterile environment and thus minimise contamination risks linked to manual operations, with the advantages of reduced line footprint and of lower CAPEX."
Companies in this article