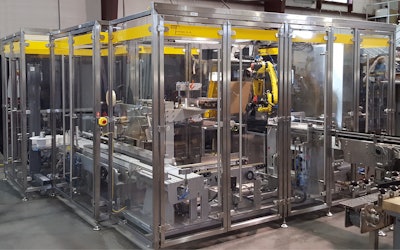 ESS Technologies, a supplier of complete packaging line design, manufacture, and integration options, has expanded its CEL5 Series Robotic Case Packing System to include two additional configurations in addition to the Model CEL5 Top Load Case Packer. The CEL5-SL Side Load and CEL5-BL Bottom Load models are also designed to integrate Fanuc multi-axis robots and custom, ESS-designed end-of-arm tooling to create a compact system for erecting, loading, and closing RSC cases. These recent configurations are meant to increase the scope of products and pack patterns that the CEL5 Series can handle.
Model CEL5-SL uses a Fanuc M-10iD robot to pick a case from the magazine, square the sides, and run the bottom of the case along a taping system (standard) or hot melt glue system (optional). The robot then places the erected case on its side on a vacuum plate for loading. The product is collated in a downstacker designed to create the required pack pattern, which, when complete, is pushed into the waiting RSC case. An upending device turns the case up and the case conveys through a top taper (or hot melt glue system) for closure. Side-load case packers are imade for case packing cartons that are not suitable for top load machines, bundle packs, and tray products. The CEL5-SL should erect, load, and close 4-5 cases per minute.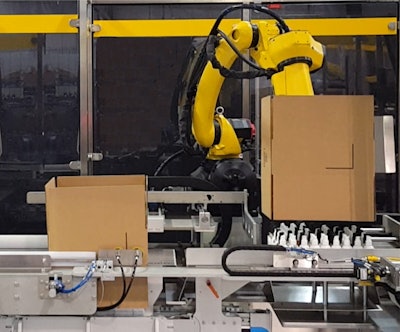 Model CEL5-BL also uses a Fanuc M-10iD to form the case, but rather than sealing the bottom, the robot holds the erected case over the load position while a servo infeed arranges the pack pattern. The robot lowers the case over the completed pack pattern and shifts the load to a bottom flap closing plate. The bottom and top flaps are then sealed with 2" tape (standard) or hot melt glue (optional). Bottom load applications include round bottles with large trigger spray handles, small pharmaceutical bottles with large topserts, cartons that are not stable enough for side-load applications, large heavy bottles, and other products that are not suitable for top-loading or side-loading. The CEL5-BL is designed to erect, load, and close up to 10-12 cases per minute. The design of the CEL5-BL should lessen how much the product is moved up and down like traditional bottom load machines, which would allow for more consistent loading and higher efficiencies.
The models of the CEL5 series are made to integrate easily with off-the-shelf serialization systems to create a case packing system that meets pharmaceutical track-and-trace requirements. The modular design can be configured to fit a very compact footprint. Options to integrate labelers, checkweighers, and robotic pallet cells should create a fully automated case packing line meant to offer affordability and reliability.
Companies in this article