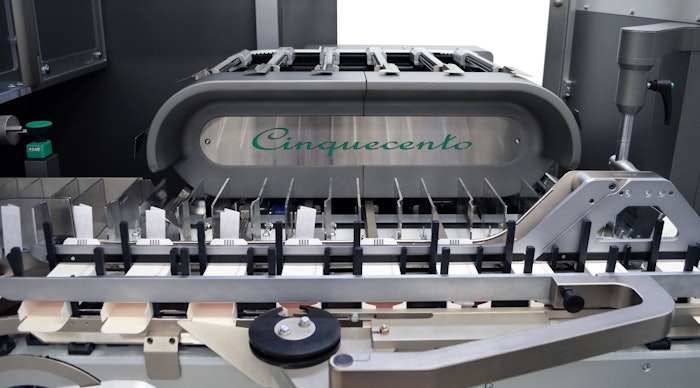 Chongqing (China) – The Marchesini Group will take part in the 58th edition of the China International Pharmaceutical Machinery Exhibition (CIPM)—namely one of the pharmaceutical packaging industry's must-attend shows in China—from 5th to 7th November. The machine on show (Stand S1-20) will be the Integra 520 blister line, the perfect solution to pack blisters into cartons. Together with the Integra 720 model, this line is the fastest robotized integrated blister line produced by the Marchesini Group and can deliver up to 520 blisters and 500 cartons per minute.

Technical features
Integra 520 combines two machines: a thermoformer and a cartoner. Integra 520 features not only the innovative functions of Integra 320, but also new pushers, a drum-type carton opener to deal with high speeds and a new leaflet pick-and-place system.

The carton pick-up and opening unit has been built according to the operating principles of all the cartoning machines of the Marchesini Group, with a drum that picks up the cartons and opens them out, holding them firmly and accurately even at high speeds. The cartons are then taken directly to the carton conveyor belt.

Access to the frontside of the machine has been improved, making it easier for operators to have an even better view of the whole machine.

The GUK feeding unit is in an ergonomic position (lower than previous models) to ease leaflet loading. In view of the high processing speeds involved, a new rotating pick-and-place unit has been designed and installed to transfer the leaflets to the pushers.

Blisters are inserted into the cartons by MA 500, an ingenious product insertion unit which represents the latest mechanical innovation of the Marchesini Group. Two different combined units, pusher and blade, insert the product into the carton with impeccable precision, even at high speeds. A simple input from the display will rise the unit automatically when the machine has to be cleaned or serviced.
Companies in this article