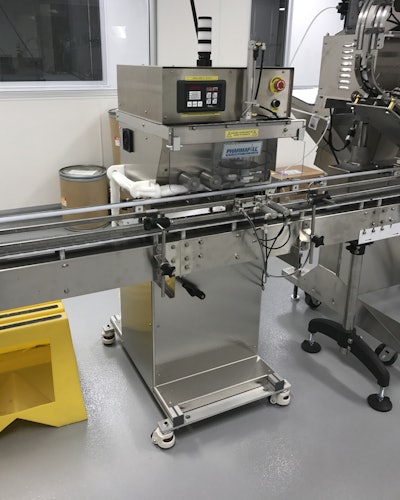 The PharmafillTM CS1 cotton inserter from packaging machinery manufacturer Deitz Co., features the company's computer-controlled, automated inserting technology scaled down into a compact, entry-level design offered at entry-level pricing.
Operating unattended to speed production and reduce labor requirements, the economical CS1 cottoner was developed to allow growing nutraceutical, pharmaceutical and contract packaging companies to upgrade from manual cotton inserting to fully automatic at a reduced investment versus higher speed cottoning machines.

Filling 60 to 90 bottles/min with a reported 100% accuracy, the CS1 cottoning machine automatically separates cotton from a continuous coil into individual pieces of uniform length, inserts the cotton into the bottle center, then releases it downstream while advancing a new bottle for filling.
The Deitz technology automatically verifies the cotton is available for inserting and stops the process if the cotton roll is ready for replacement or if no bottle is present.

The compact Pharmafill CS1 measures 25-1/2 inches x 24-6/10 inches deep to fit into tight spaces and comes set on casters as standard for easy installation and smooth movement from one filling line to another.
Manufactured in the company's Wall, NJ, headquarters from sanitary, food-grade stainless steel, the CS1 cotton inserting machine is one of three in the company's line of cottoners. The Pharmafill CS2 cottoner offers faster speeds while the CS10 features dual-filling heads to achieve speeds of 180 containers per minute.
Companies in this article