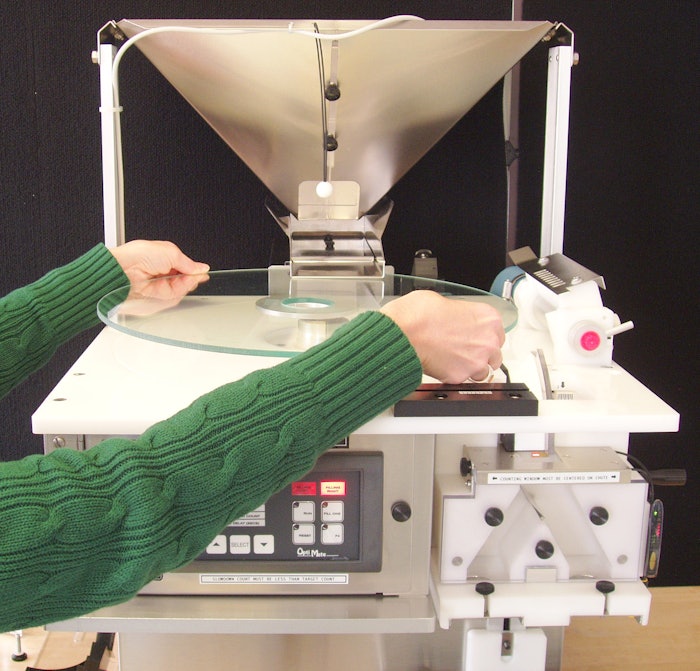 The PharmafillTM TC4 tabletop pill counter from packaging machinery manufacturer Deitz Co., is designed to allow product contact parts to be removed, cleaned and returned to service in 15 minutes or less.
Developed for contract packagers and growing nutraceutical and cosmeceutical companies, the tabletop tablet counter allows the feeder tray, dual discharge chutes and optional hopper and vibratory feeder assemblies to be disassembled for easy cleaning and fast changeover without risk of product contamination.
The product contact parts are constructed from FDA-approved materials including stainless steel, anodized aluminum, tempered glass, and polycarbonate as standard and may be cleaned with soap and water. These parts may also be pre-sterilized and stored as complete sets for fast changeovers in controlled environments.

Operating in either semi-automatic, manual and check count modes, the Pharmafill TC4 counts pills, tablets, capsules, caplets, lozenges, softgels, and other solid oral dose products with 99.95% accuracy and discharges them into bottles at up to 2,000/min.
Its proprietary counting sensor continuously counts transparent, translucent and opaque solid dosage forms including coated, uncoated, colored, and uncolored products.
The compact tablet counting machine measures just 34 in (W) x 21 in (D) x 30 in (H) to fit into filling lines, while accommodating bottles heights up to nine inches. The pill counter is manufactured in the company's Wall, NJ, headquarters.
Companies in this article