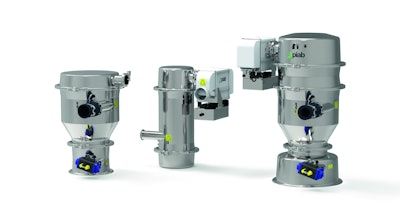 Piab's piFLOW®t, a tablet conveyor, targets issues created by vacuum technology in conveying delicate tablets.
The piFLOW®t features patent-pending technology for the automated handling of tablets and other fragile and valuable products. The system features a controlled low speed, guided entry into the conveyor, and the elimination of all sharp edges.
Suitable for transporting up to four million tablets per hour, piFLOW®t is primarily designed for pharmaceutical tablets and capsules. The tablet conveyor can also be used to transport any fragile goods within a processing plant. Coated sweets/candy, roasted coffee beans, and whole nuts are other potential applications.
Eliminating the use of inadequate standard equipment and alternative, labor-intensive manual procedures, piFLOW®t will safely transfer tablets between the various processing units, such as tablet presses, coating drums, and blister packaging lines, avoiding risks of damage to the tablets.
At the core of piFLOW®t is the proprietary piGENTLE™, an innovative technology (patent pending) that maintains a gentle tablet flow by regulating the feed pressure of the pump, ensuring that tablets, capsules or other fragile products are handled as delicately as possible. piFLOW®t is an extension to Piab's range of piFLOW® conveyors for powder and bulk materials and is specially developed to meet the stringent demands regarding operational safety and hygiene within the pharmaceutical (piFLOW®p), food (piFLOW®f), and chemical (piFLOW®i) industries.
Companies in this article