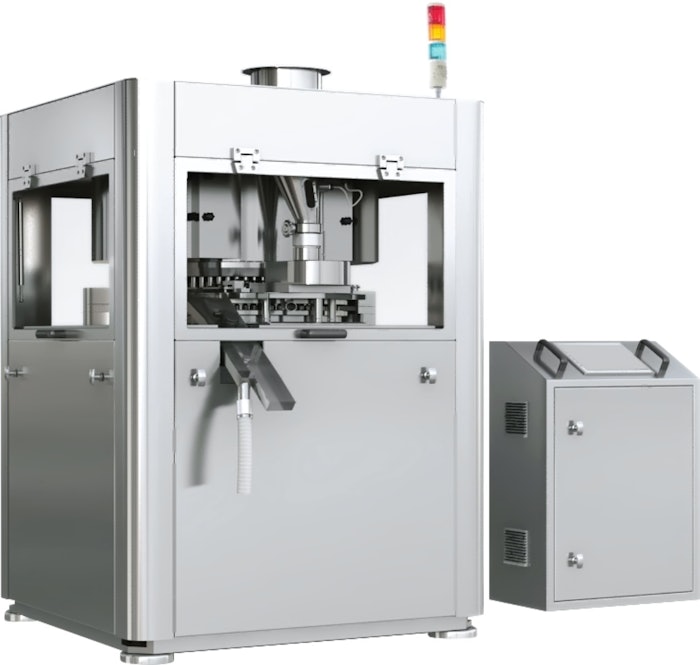 Dr. Pharm, Inc.'s GZPS-83 High Speed Tablet Press is capable of bi-layer tablets, different colors, annular as well as well as round, engraved and even irregularly shaped tablets at speeds up to 796,000 tablets/hr.
The GZPS-83's filling system is powered by powerful and accurate servo motors via the Siemens touch HMI control display.
Other key features included double force feeding, double discharge, two powder filling hoppers, dosing, pre-pressing, main pressing and ejection. In addition to 304 stainless-steel contact parts, the GZPS-83 is cGMP- and FDA-compliant. Advanced technology includes an infrared safety system, auto diagnostics systems and Siemens PLC controls.
Dr. Pharm, Inc. was founded in 1999 and is a provider of solid-dosage manufacturing machinery worldwide serving the pharmaceutical, nutraceutical, vitamin/supplement, health/beauty and confectionary industries.
Its line of solid-dosage manufacturing machinery product breadth consists of automatic capsule fillers, high-speed tablet presses, granulation suite and coaters, ancillary equipment, mixers, cleaners, solid-dose hubs, as well as entire packaging and counting lines. All Dr. Pharm equipment is manufactured to CE, cGMP, FDA, GAMP5 and ISO 9001 specifications and designed to meet the customer's solid -manufacturing needs.
Companies in this article