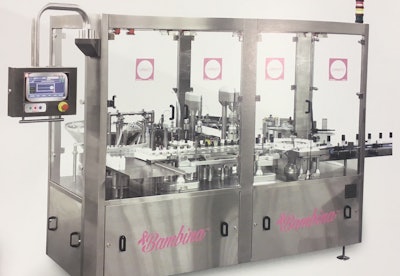 You could argue that most pharmaceutical packaging lines contribute to improved patient outcomes by supplying medicine to those in need. But Capmatic is going a step beyond, putting resources toward the research side as well.
The Montreal-based company manufactures liquid, tablet and powder (micro-dosage) packaging equipment for many industries including pharmaceutical, nutraceutical, cosmetic and food and beverage.
The move to North America
Founded in Italy in 1964 by Lavinio Bassani, a mechanical engineer in Milan, the company's first success was a monoblock system with filling, plugging, capping, and labeling capabilities. After being recognized for innovative product design by the Italian Chamber of Commerce, the Canadian government extended an invitation to Bassani to move the technology to Canada. After careful consideration, he moved his family to Montreal to introduce Capmatic technology to North America in 1979.
With decades of experience in implementing packaging systems, the company now offers a wide variety of machines for unscrambling, filling, counting, capping, labeling and more.
Supporting cancer research
Capmatic manufactures the monoblock Bambino system, a compact single-indexing platform which can be configured to handle various liquid, semi-viscous and viscous products. The system, which can fill, plug, cap and overcap, can also be equipped with a labeling system that can accommodate various inspection components.
Recently, Capmatic introduced its pink-lettered Bambina system, a special edition of the Bambino dedicated to cosmetics, creams, sprays and pumps, which offers the same features such as 40 bottles/min throughput, servo-driven diving nozzles for filling and quick, recipe-driven changeovers.
The Bambina has an added benefit: a portion of the proceeds go toward the company's local breast cancer foundation. Alioscia Bassani, President at Capmatic, says that the machine offers customers a way to give back to a disease that affects us all, noting, "We're still a family-run company. We strongly believe in supporting this cause."
Companies in this article