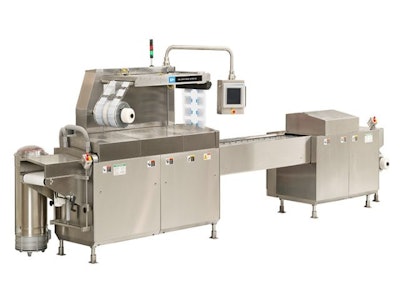 Ossid, powered by Pro Mach, introduces the Medical 8000S thermoform-fill-seal (TFS) machine. The Medical 8000S provides medical and dental product suppliers and co-packers with customizable packaging that improves throughput and competitiveness, while lowering material costs.
The Medical 8000S is rated at up to 20 cycles/min for moderate-to-high production rates. It produces a variety of package types, including flexible packaging, foil-foil packaging, semi-rigid packaging, rigid packaging, ambient packaging, vacuum packaging, modified atmosphere packaging (MAP), recloseable packaging, and more. Compared to horizontal flow wrap systems, the Ossid Medical 8000S provides a faster, more efficient method of production. Customers who switch from flow wrapping to an Ossid TFS line will see a cost savings from thermoforming rather than purchasing premolded packaging.
Customers have the option of specifying the PLC and HMI hardware best suited to their unique environment and application. Ossid application engineers design and assemble an integrated vision system and package printers that meet each customer's quality inspection and traceability requirements. For those customers interested in the utmost in hands-free operation, a pick-and-place system is available.
The Ossid Medical 8000S is built in the U.S. on a stainless-steel platform for low vibration and precision movement and long years of service. A servo motion-controlled web conveying drive is another contributor to overall machine optimization and quality operation. Change parts are readily available as is technical support.
Standard features also include Category 3 safety systems, ergonomically designed access to the forming and sealing stations, intuitive operator interface and automatic splice detection.
Companies in this article