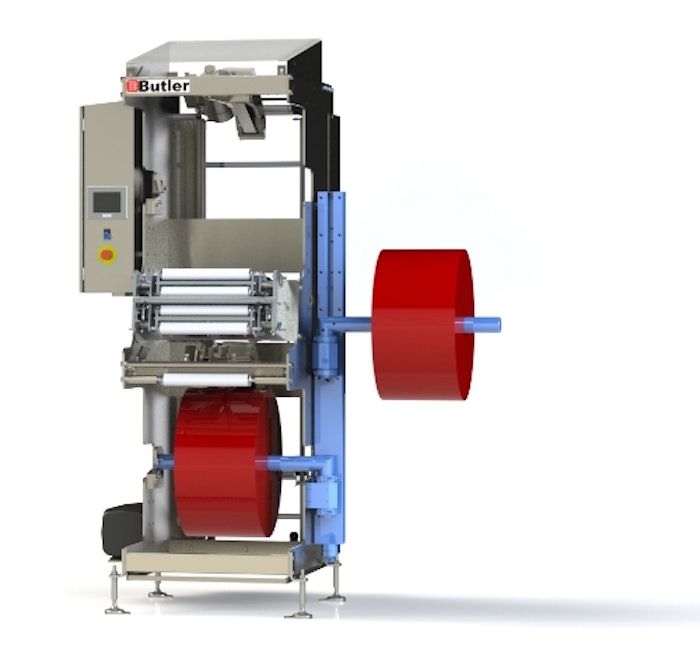 Butler Automatic's SP1 Series Automatic Film Splicer is ideally suited towards consumer packaged goods (CPG) packaging applications. The SP1 Automatic Film Splicer increases efficiency in packaging operations by eliminating the packaging line downtime caused by manual film roll changes.
The SP1 Automatic Film Splicer enables customers to eliminate the leading cause of planned downtime—film roll changes—and improve profitability.
In eliminating film roll change and manual splicing, Butler's automatic splicing technology typically reduces downtime by five to 10 min/operational hr. For a typical packaging line operating 20 hr/day, six days/wk, this can yield up to 20 to 25 hours of additional production/wk, or the equivalent of an extra day's production.
With a simple mechanical design and high-quality manufacture, the SP1 offers long-term, trouble-free performance. The device senses the diameter of the expiring roll of film and automatically splices the end of each expiring roll onto the new roll. It is capable of running at speeds of up to 600 ft/min.
In addition to the standard SP1 automatic splicer, Butler offers the SP1 RB, designed for full washdown capability. The SP1 RB is built to standards common with many regulatory requirements. It features mostly stainless-steel construction, with only specific splicing head cylinders using coated aluminum, and has minimal flat surfaces.
Butler Automatic is the inventor of automatic splicing and the largest global manufacturer of automatic web splicing equipment for food, pharmaceutical, printing and CGP markets.
Companies in this article