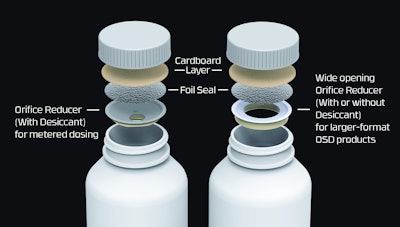 CSP Technologies, Inc.'s original Activ-Seal™ closure incorporates moisture and gas scavenging technology, which is press-fit into an induction-sealed, tamper-evident screw cap. The closure's orifice-reducing element rests inside the bottleneck and is permanently affixed to the top rim of the bottle via patent-pending effortless insertion technology during the induction sealing process.
Now, CSP Technologies offers its Activ-Seal™ closure in two additional formats: non-desiccated and non-scavenging with an enlarged orifice more suitable for larger-format oral solid dose products; and a slim profile format that includes an orifice-reducing layer for metered dosing without the underside desiccant.
The original Activ-Seal™ closure uses commercially available, tamper-evident induction seals. Once removed, they enable metered dosing through a reduced orifice. The scavenging component, offering combinations of moisture, volatile organic compounds (VOC), and odor management, is permanently affixed to the rim of the bottle during the induction sealing process, ensuring the product protection never leaves the bottle, even after opening.
By providing optimized capacity and uptake rates, Activ-Seal™ closures yield significant improvement over more traditional methods of ensuring product stability, such as inserting canisters or sachets, which require additional insertion equipment and carry the risk of breakage, dusting/particulates, or accidental ingestion. Complexity and costs also are reduced, since only one molded piece is needed for most scavenging needs.
Key benefits of the original Activ-Seal™ closure include:
· Versatile scavenging to absorb moisture, VOC's or odors as required
· Improves product stability
· Incorporated directly into induction-seal closures and can be applied using existing capping equipment
· Requires no additional insertion equipment
· Compatible with child resistant and non-child-resistant closures
· Can't be removed prematurely by the consumer
· Eliminates risk of accidental ingestion
· Eliminates risks of damage to solid dosage forms caused by physical contact with traditional scavengers
· Reduces cost and complexity, only one molded piece is needed to satisfy all scavenging needs
Companies in this article