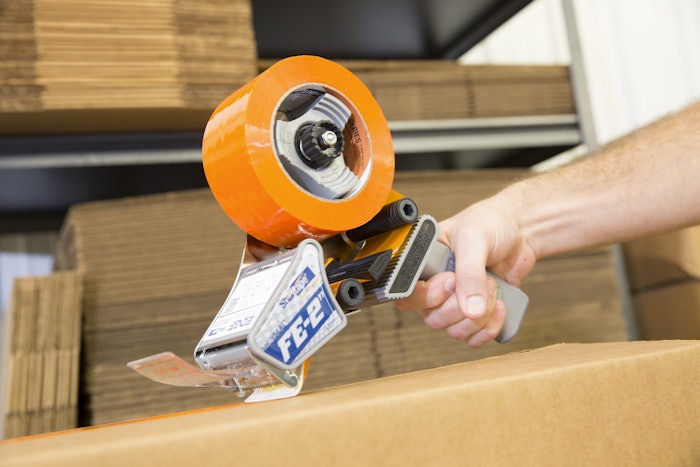 Shurtape expands its ShurSEAL® Packaging Solutions offering with the introduction of the Folded-Edge Hand Dispenser.
For manual sealing applications, including L-Clip tape sealing, the Folded-Edge Hand Dispenser is designed with patented Folded-Edge® Technology, which enhances tape application to create a more reliable, secure case seal.
Folded-Edge Technology is a feature on the tape dispenser that folds both edges of the packaging tape along the length of the carton as it's applied, delivering the following benefits:
• Reinforced strength. Increases the strength of the tape edge to keep the seal intact,
particularly at its most vulnerable failure point—the major flaps where the tape folds over the edges of the carton. This reduces the risk of the tape being nicked and broken, providing an added layer of security to keep contents secure from damage, contamination and theft.
• Ready to Open Seals. Creates a secure, easy-to-open carton seal that doesn't require a knife or other sharp instrument to open. Essentially, it creates a dry edge that allows the tape to be grasped and removed by hand, reducing the risk of product damage and workplace injury attributed to knife cuts.
• Improved wipe-down pressure as tape is applied, which results in deeper penetration of the tape's adhesive into the carton to produce tamper-evident seals.
• A retractable/pivoting safety blade that is shielded from accidental contact. A two-step process ensures the cutting blade is only exposed during deliberate cutting motion, which in turn reduces the risk of worker injury attributed to cuts by the tape dispenser blade.
• Visible tape length indicators provide tab length control—and reduced tape consumption—by allowing the user to easily see how much tape is being dispensed.
—Single strip tape application via visible markers that provide straight taping guidance.
Folded-Edge Technology on the company's ShurSEAL automated case sealing solutions was introduced as a feature that delivers enhanced case sealing strength and reliability to manufacturers. The no-knife to-open seal was an added bonus for case recipients, according to the company.
Shurtape notes the hand dispenser market has had very little change over the years, so it's ripe for innovation. The company now can leverage this technology in a hand-held format, providing the same level of benefits to those manufacturers that rely upon a manual case sealing process on their packaging line.
The Folded-Edge Hand Dispenser is available in 2-in. and 3-in. options.
Companies in this article