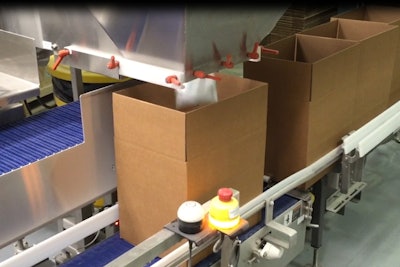 Multi-Conveyor's series of stainless steel constructed conveyors are designed to convey a variety of product sizes to multiple packing stations using both plastic belt and tabletop-style configurations.
This bulk filling line can be used for packets of food, pharmaceutical and/or nutraceutical products.
In a recently built food application, for example, product inclines to a sensing hopper for bulk filling into cases. The variable-speed controlled conveyor counts each pouch and automatically drops them into a case at a designated loading station. Once the count is reached, the conveyor accumulates pouches into the case for indexing.
Photo-eye sensors relay bulk intake while taking into consideration the remaining number of pouches on the upstream conveyor. A pneumatic guillotine release (or slide gate) works in conjunction with the sensors to halt production into the case to avoid overflow of product and will reopen when it senses a new box.
The line has built-in case escapements where hand packers can shake the cases for product settling. The full cases then move through top tapers onto a horseshoe conveyor featuring "flipping" guiderails. Rails flip in or out based on variation of product widths.
Safety and pre-designated line stops were the backbone of integral placement of e-stops throughout the system to stop and release as needed.
Hand cranks with dial indicators provide ease of width or pivot angle adjustments along with a case "stop clamp" that can be triggered by the operator.
Companies in this article