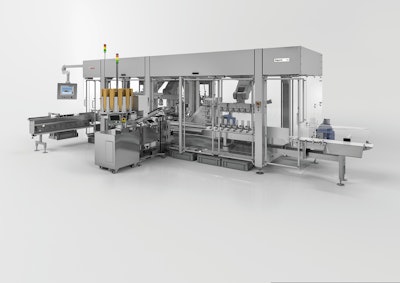 Bosch Packaging Technology's Sigpack TTMP topload cartoner is an efficient and flexible machine, especially for pharmaceutical customers. It is based on the company's TTM platform, which is used around the world.
The features of the TTM platform have been advanced specifically for the packaging of ampules, vials, syringes, pens and further pharmaceutical products.
A simple and safe changeover concept, high process safety and a broad format and product flexibility characterize the machine. Due to its modular design, the machine layout can be adjusted to different product infeeds. With an output of 30 up to 200 cartons, the TTMP provides individual solutions for both small and large production batches.
The Sigpack TTMP can be seamlessly combined with the Sigpack TTMC case packer. This offers customers a uniform, user-friendly operating concept for the entire line.
Thanks to the patented format changeover concept, tool-less format changes with vertical restart can be carried out within a few minutes. The open and easily accessible machine design provides for a fast line clearance. The patented changeover concept enables users to flexibly and quickly package various pack styles on one machine. This is especially important for increasingly small batch sizes.
A wide range of product infeed solutions and loading possibilities ensure thevgentle handling of sensitive products such as vials, ampules, syringes andvinjection pens. Various gripper technologies provide for smooth packaging of thevproducts. Depending on requirements, different mechanic, vacuum-based or grippers with airflow technology are being used. Modules for forming and inserting partitioners, package inserts and tray denesting can also be integrated.
The Sigpack TTMP is easily accessible and open. The compact, GMP-compliant design supports process safety. Additional track-and-trace-solutions such as the CPS module (Carton Printing System) from Bosch or third-party suppliers can be easily integrated. The machine can also be equipped with Bosch CPI software, which manages serialization from the allocation of serial numbers through to the last aggregation step. Thus, the Sigpack TTMP fulfills the most recent serialization requirements for pharmaceutical products.
Various monitoring functions inspect the packaging process at several points. For instance, the carton blanks are already scanned at the infeed. Vision systems and code verification allow the examination of carton contents, the correct infeed of the package inserts, as well as the intact shape of the cartons. Incorrect packs are automatically dispatched from the system by discharging devices. This concept ensures 100% process control and also speeds up line clearance during batch changes.
Companies in this article